DC Comics Writer Explains Batman's Marriage to Catwoman
At NYCC 2017, Tom King revealed the personal stakes that fuel his ongoing DC series.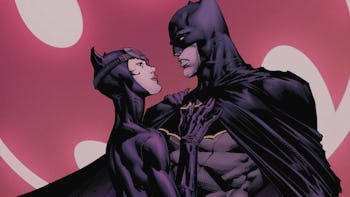 DC Comics
The first thing Batman writer Tom King says at New York Comic Con is that he lied to everyone. Last year, when King took the reigns from superstar Scott Snyder to write DC's best-selling, ultra-important Batman, he told everyone — fans, journalists, maybe even himself — that he "wasn't intimidated" about the job. But now, he admits he was terrified.
"I was scared. I didn't know what I was doing. It was really hard," he says in a self-deprecating but honest tone. "I feel I had to get my feet under me."
The Columbia University alum knows what real hard looks like. Throughout his twenties, King worked for the CIA as a counterterrorism officer. This is just comics. Catapulted to industry fame after writing his acclaimed Vision for Marvel, King says he had a hard time getting into the head of the World's Greatest Detective. Pressured by Batman's ubiquity in pop culture as well as keeping DC's most popular book on the shelf, King admits he relied on cliches because he thought it's what fans wanted. "Batman has to use his tools. He has to show up and disappear. I was writing the cliches, trying to make everyone happy. I wasn't adding anything to the character. I was writing for people instead of just writing."
"I just couldn't relate to Batman," he adds. "I didn't get it. He's perfect in everything. I'm not perfect in anything. I can't walk down the street without falling flat on my face."
Some thirty issues later, King has let his guard down, allowing more and more of himself into the series. During our chat inside the Javits Center, King is friendly and approachable like an open book. He gushes about his favorite comics of all time (The Dark Knight Returns by Frank Miller, Peanuts by Charles Schulz), as well as his wife, his "partner in everything" of 17 years. It's these personal elements that now fuel King's Batman, for which he's got "a hundred issue plan." And King's reign is shaping up to be an era that will soon be defined by an upcoming, life-changing event: Batman's marriage to Catwoman.
Since issue #14, which kicked off the two-part story "Rooftops," King has explored the passions and emotions that fuel Bruce Wayne and Selina Kyle's — let's say, complicated — relationship. Batman proposed in issue #24, and in the recent issue #32, Catwoman said yes.
A love story is about the last thing you expect from a ex-officer of central intelligence, but as it turns out, that's exactly where King's story came from.
"I'm fortunate that I'm madly in love with my wife. The biggest stakes for me are my relationship for her," King says. "When I was in a dangerous situation in my former job, I was never scared of getting hurt. I was scared of her being without me. When you're in love, you have these thoughts. It makes everything in your life different, it makes you admit things about yourself."
"I start putting that kind of stuff [in the book], because to me, that starts raising the stakes on everything," he adds. "It completely contrasts with who Batman is as a character. When you have something that both raises the stakes and creates tension, then you got something good."
In the midst of Catwoman and Batman's whirlwind romance, King also made a star out of Z-list villain, Kite Man. Placed as an homage to Frank Miller's Daredevil, which had the gag villain Stilt-Man, King used Kite Man as a recurring gag until King learned Kite Man's real name, "Chuck Brown." Like "Charlie Brown."
"Tony Isabella gave him that name," King explains. "I'm a huge Peanuts fan, I think it's the best comics written in the history of pictures and words. I loved the idea of who Charlie Brown is, always a loser but keeps going. It's tragic and comic and yet heartwarming and I wanted to put that in the comic."
King teases that Batman's marriage will shake up all of his other existing relationships, from his precious Bat-Family to his colleagues in the Justice League. "We're dealing with the status quo of 78 years of Batman as you've never seen it. Batman engaged to Catwoman, that's insane," King says. "She's a criminal and Batman vowed to wage war on criminals. Batman is not someone who falls in love, and he's he's fallen in love. We have the highest stakes with a character responsible for the safety of the universe trying to be responsible for himself. The sky's the limit."
Inverse will report back in one year to see if King lives up to his word.
Tom King's next issue, Batman #32, will be released on October 18.
If you liked this article, check out this video that reveals another reason for why Bruce Wayne became Batman.