Watch Yodeling Walmart Kid's Surprise Performance at Stagecoach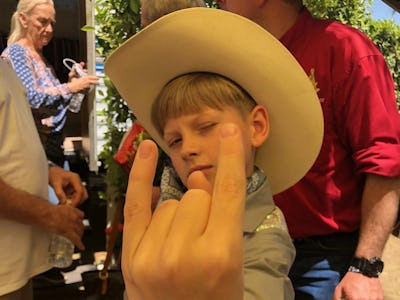 Instagram
Viral yodeling sensation Mason Ramsey continues to show up at musical events across the country to give fans a sample of his yodel skills. The 11-year-old country star made his way to California for the Stagecoach music festival Friday for another performance.
Ramsey, also known as the "Walmart Yodeling Kid" and "Lil' Hank," showed up Friday night at the Stagecoach country music festival in Indio, California, as reported by Rolling Stone. Tyler Hubbard and Brian Kelley of Florida George Line brought the young yodeler on stage towards the end of their set. Ramsey, decked out in a white suit and cowboy hat, gave his rendition of the song that made him a star, Hank Williams' "Lovesick Blues."
It's been a whirlwind of a month for Ramsey. A tweet featuring him singing in his local Walmart at the end of March started going viral in April. Remixes of his performances started appearing on YouTube as well as copycats who tried to sing at their own Walmart or other locations. His popularity even made the song "Lovesick Blues" reach the Spotify Global 50.
It didn't stop there for Ramsey. He made an appearance on The Ellen DeGeneres Show where he learned that he would perform at the famous Grand Ole Opry, a personal dream of his. He also received a $15,000 scholarship from Walmart, which also livestreamed a concert featuring the "yodeling kid" in front of his local store. He then made took the stage at Coachella with DJ Whethan.
Since then he started his own Twitter and Instagram accounts and amassed more than a million followers. Top it all of, he released his first song, "Famous," on Friday, hours before his performance at Stagecoach.
Although Mason Ramsey makes it looks easy, yodeling is actually difficult to do. It requires controlling the air flow through the larynx to create just the right vibrations to create the see-saw sound.