Watch 'Yodeling Kid' Mason Ramsey Charm the Walmart Concert Crowd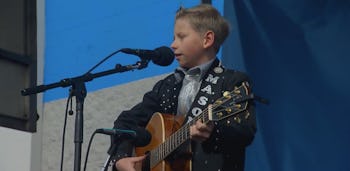 Walmart
As promised, Walmart presented a concert by the now famous Yodeling Kid at the location where it all began: its store.
Mason Ramsey took the "stage" Wednesday outside his local Walmart in Harrisburg, Illinois. The 11-year-old donned his cowboy belt, jeans, and guitar for the show, where he serenaded his fans. "I was born ready!" the young singer told the crowd as he prepared to sing his now viral rendition of "Lovesick Blues" by Hank Williams.
The comments section drew an overwhelmingly positive reaction from Walmart's Facebook page followers. Facebook user Evan Rockwell wrote under the video, "This is the most Walmart thing that Walmart has ever walmarted," ending it with a fire emoji. Tara Thompson wrote, "Cute kid.I hope he goes far with his music talent."
No stranger to the limelight, Ramsey has already performed in local venues around Golconda, Illinois and has opened shows for Kenny Rogers, Gene Watson, and the Bellamy Brothers. He's also created a Twitter account, where he's uploaded adorable videos of himself singing and interacts with his newfound fans.
Walmart has taken this opportunity to push a #WalmartYodelBoy campaign. The big box store company even created a custom Snapchat filter for Ramsey's Harrisburg concert and promoted it across its social channels.
Ramsey ended his solo show with a heartfelt goodbye, using a Johnny Cash country song as a reference: "If the good lord's willin' and the creeks don't rise, I'll see y'all next time!"