Yodeling Walmart Kid's Cover Is Now a Walk-Up Song for MLB Players
Even baseballers can't get enough of the young singer.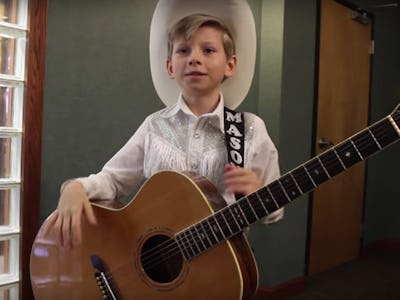 Youtube
The 11-year-old yodeling boy who stole the internet's heart has officially crossed over into mainstream fame, thanks in part to the national sports stage.
In the wake of Mason Ramsey's viral video winning over the internet, not one but two Major League Baseball players chose his heartwarming rendition as a walk-up song during games this week. Dodgers player Kiké Hernandez was among those who chose the young yodeler's cover of "Lovesick Blues" by Hank Williams to walk up to the plates on Tuesday.
Over on the East Coast, Red Sox reliever Joe Kelly was also spotted strolling up to plate as the remixed version of the Illinois native's yodel rendition blasted.
It's no surprise to see athletes choosing the catchy tune as their walkup soundtrack, given that multiple celebs have already become obsessed with it. Ramsey became an overnight sensation when a recent tweet of his cover of "Lovesick Blues" at a local Walmart in Illinois received hundreds of thousands of likes.
No stranger to the limelight, Ramsey has already performed in local venues around Golconda, Illinois and has opened shows for Kenny Rogers, Gene Watson, and the Bellamy Brothers. He's also created a Twitter account, where he's uploaded adorable videos of himself singing and interacts with his newfound fans. Ramsey was scheduled this week to return to his local Walmart for a scheduled performance of two to three songs.
Perhaps the MLB will take note of Walmart and hire the talented tween to perform at one of their upcoming games.