Yodeling Walmart Kid Gets Parodied by YouTuber Jake Paul
But only one of them is singing at Coachella.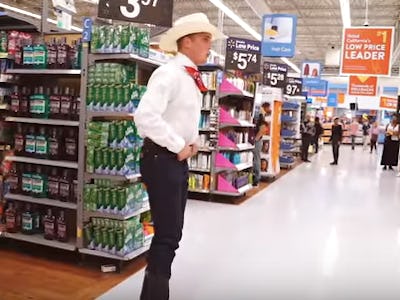 The inescapable meme known as Yodeling Walmart Kid just got a new fan: YouTube star Jake Paul.
On Thursday, Paul posted a new video on his YouTube channel that begins with him watching 11-year-old Mason Ramsey, aka Yodeling Kid, sing his famed rendition of Hank Williams's "Lovesick Blues" at a local Walmart in Illinois. Ramsey's video continues to inspire remixes across multiple genres, memes and other fan art, and not to mention celebrity endorsements from Steve Aoki and Millie Bobby Brown. Paul is the latest internet celebrity to jump on the Ramsey bandwagon.
After deciding that he wants to go viral like Ramsey, Paul enlists the help of "Chance the Hillbilly" to shop for cowboy hats and country music looks at the Boot Barn. Chance uses a hyperbolized Southern accent as if to chide Ramsey – who is not from the South but from Illinois – and laugh about country music fans in a derisive way. "Chance the Hillbilly" already comes across as an elitist insult, but feels even more tone-deaf when its directed at an 11-year-old boy.
Once Paul's team arrives at Walmart, they jump on the intercom to announce throughout the megastore that "Little Hank" would be performing in five minutes on aisle 15. Fans who show up expecting Ramsey find Paul as the new "Little Hank," ad-libbing lyrics such as "I like my chicken fried" and doing his best impression of a yodel.
Yodeling is no easy task and requires a unique vocal skill, so it's unlikely that Paul will get signed for his yodeling abilities. Meanwhile, Ramsey is expected to perform at this year's Coachella.
After three minutes of caterwauling, Paul wraps up, takes pictures with fans, taunts a woman in a power scooter, and leaves. The video's title says that his team was kicked out of the Walmart, but that isn't shown in the video. Paul says on screen that he wants to return to Walmart every week, so don't rule out a concert tour.