Yodeling Walmart Kid Surprises Fans at Coachella
Mason Ramsey can't be stopped.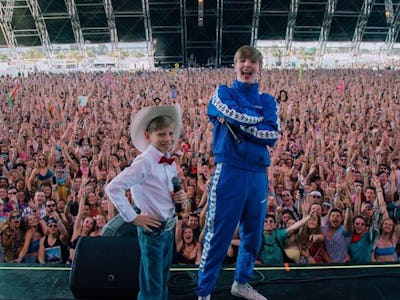 It's official. Mason Ramsey has evolved from viral meme to full-fledged celebrity. Just ask the crowd of thousands who erupted in applause after the Yodeling Walmart Kid gave a performance at Coachella.
On Friday afternoon, Ramsey joined DJ Whethan during his set at the music festival in Indio, California. Whethan invited Ramsey to share the stage after his fans on the internet remarked that he looked a lot like the 11-year-old yodeling sensation. Earlier in April, Whethan tweeted, "Stop saying I look like the Walmart yodel kid," which prompted Walmart to respond, "We think you're both great!" An alliance was then forged.
After being introduced by Whethan, Ramsey gave the crowd a live rendition of his Hank Williams cover, "Lovesick Blues." Shortly after the video of Ramsey singing at his local Walmart in Illinois went viral, "Lovesick Blues" inspired a flood of remixes, memes, fan art, celebrity endorsements, and parodies from the likes of YouTube star Jake Paul and Stranger Things actress Millie Bobby Brown.
Ramsey's stardom reached a new level after he appeared on Ellen on Tuesday. Ellen DeGeneres is known for bringing viral sensations to her show, giving them a chance to share their stories of random internet fame. After performing the Hank Williams hit, DeGeneres surprised him with the announcement that he will be performing at the Grand Ole Opry. She also presented him with a scholarship from Walmart for $15,000.
With a Coachella performance already behind him, Ramsey is expected to be at the Grand Ole Opry on Saturday. Tickets for Ramsey's performance at the Grand Ole Opry are available at the venue's website. He'll be performing alongside other artists such as Ricky Skaggs, David Ball, and Points of Grace.
After successful shows in California and Tennessee, it's unclear where Ramsey will perform next, but given his growing stardom, a countrywide tour seems inevitable.