Listen to This Elon Musk-Approved Grimes and Post Malone Playlist
Musk took some time out of his busy schedule.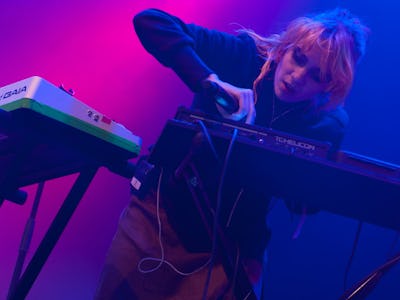 Wikimedia
Elon Musk took some time out of his busy schedule on Wednesday to kick back and listen to some Post Malone, courtesy of a playlist from musician Grimes. Malone — real name Austin Post — shared a message of adoration to the Tesla CEO through his Twitter page, sparking a conversation between three of the biggest names in popular culture.
It's the latest signs of Musk's increasing status as a household name, after stunts like his launch of a Falcon Heavy rocket carrying a Tesla Roadster captured people's imaginations. In response to Malone's message of "love u 🎸🎸🎸," Musk wrote, "Likewise … was just listening to Go Flex & Psycho on [Grimes'] playlist." Grimes has released a number of personal playlists focused on moods "at home" rather than heavy curation. The range covers music for drawing, depression, and even playing PS4 game Bloodborne. Musk's choice playlist, entitled "COUNTRy MUSIXK," covers a range of artists including Dixie Chicks, Fifth Harmony and Taylor Swift:
It follows on from public expressions of mutual adoration between Musk and famed rapper Kanye West. Musk told the audience at South by Southwest in Austin, Texas, last month that West inspired him, which led to West declaring this week that he feels like he's "in the future" when he drives his Tesla, and that he "heard these are really good for the environment."
Musk has increasingly grown in popularity, as projects like the $35,000 Tesla Model 3 entry-level electric car and Powerwall renewable energy storage system have started to reach the mainstream. Analysis from British firm RS Components last year showed how search traffic has spiked around Musk, with his biggest news of 2017 coming when he announced his relationship with Amber Heard and when he dismissed Facebook CEO Mark Zuckerberg's "limited" understanding of A.I.
Musk is set to come under the spotlight again next week when Tesla reports its first quarter 2018 earnings on May 2.
Chances are, he'll have to dig into the Tesla Model 3 playlist he shared last week to unwind after.