Elon Musk's Tesla Model 3 Playlist Has Surprising Links to the CEO
The Tesla CEO likes to relax sometimes.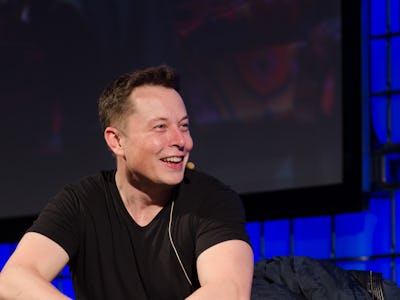 Heisenberg Media
When you're CEO of a major electric car company, sometimes it pays to relax and cruise around in your own firm's products. Tesla head Elon Musk took some time out on Tuesday from sending humans to Mars and linking up brains to computers to go for a much-needed ride in a Model 3, the $35,000 entry-level model that entered production last July. Ever the fan of mixing pop culture into his products, Musk shared with his 21.3 million Twitter followers some of the songs he's been playing on the in-car speaker system.
Here's the playlist that keeps Musk going, with songs that have surprising connections to the CEO:
Lil Wayne feat. Eminem — Drop the World
Lil Wayne is a Musk fan, too — when the CEO shot down flat-earth conspiracy theories in December 2017, the musician shared the story on his Facebook page with the caption "might not want to argue with him."
AWOLNATION — Sail
The song has a rather bizarre connection to Musk. In 2013, the University of Illinois played "Sail" at the Engineering Opera House using Tesla coils, the setup invented by Nikola Tesla that also inspired the name of the electric car company.
The Rolling Stones — Paint It, Black
A Tesla favorite, this song was used in the company's October 2016 demonstration of the in-development autonomous driving system. One and a half years later, Tesla still offers the feature as a pre-order option and Musk has said he's "pretty excited" about its ongoing development. It's expected to run on all cars produced since the company's "Paint it Black" video debuted, thanks to a combination of cameras and sensors included with every model.
Rammstein — Mein Herz Brennt
Much like Musk, the Berlin rockers have a certain affinity for cars. Keyboardist Flake Lorenz has collected more than 70 vintage cars that he rents out to similar fans.
Rachid Taha — Barra Barra
This song was featured in 2001 war film Black Hawk Down, starring Jason Isaacs. Isaacs also plays captain Gabriel Lorca in Star Trek: Discovery, who name-drops Elon Musk in the fourth episode. Fans have pointed out that this technically makes Musk canon in the Star Trek universe.