Tesla Model X: Driver in Gym Crash Claims Vehicle Accelerated on Its Own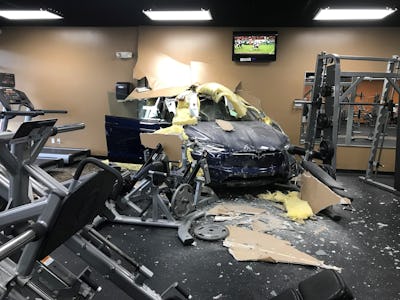 Florida Highway Patrol
A Tesla Model X drove through the wall of a vacant storefront before crashing through the side of an Anytime Fitness gym on Sunday in Lutz, Florida. The vehicle came close to striking a gym member as it plowed through the second wall but no one, including the driver, was injured in the incident.
A traffic crash report filed by the Florida Highway Patrol states that the woman behind the wheel claimed that the Model X "would not stop accelerating forward" as she attempted to pull into a parking spot. Officers did not suspect the driver of being under the influence of drugs or alcohol, according to the report. While there is no further evidence to substantiate the driver's claims that the car accelerated on its own, similar allegations of Model X's unexpectedly accelerating have been reported in the past.
The Model X includes autopilot technology that has come under scrutiny after a recent unrelated accident. An ABC News report stated that the authorities are investigating whether or not that feature was in use at the time of the crash.
Tesla's website states that its autopilot can maneuver itself around a highway "without requiring driver input" as well as "self-park when nearing a parking spot." The vehicles are advertised to be fully capable of navigating a parking lot with the ability to "search for a spot and park itself" whether or not a driver is in the car.
In a statement, a Telsa spokesperson suggested that the crash could have been caused by the driver pressing down on the accelerator pedal instead of the break. The company stated that in every accident where sudden acceleration is claimed, the company investigates the vehicle's driving data logs. "The vehicle's diagnostic logs confirm that the vehicle operated as designed. Accidents involving 'pedal misapplication,' in which a driver presses the accelerator pedal by mistake, occur in all types of vehicles, not just Teslas. The accelerator pedals in Tesla vehicles have two redundant sensors that clearly show us when the pedal is physically pressed down, such as by the driver's foot," stated the spokesperson.
This article has been updated to reflect a statement issued by Tesla.