Tesla Releases Statement on Fatal Model X Crash Involving Apple Engineer
Logs showed driver failed to act before crash.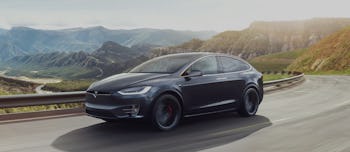 Tesla
Last week's fatal crash of a Tesla Model X raised questions about the car's Autopilot technology. After recovering the data from the destroyed SUV, the company on Friday night issued a statement about what happened on the morning of March 23 that resulted in a driver's death.
Tesla confirmed in the statement that the driver — 38-year-old Apple software engineer Wei "Walter" Huang — had five seconds and 150 meters (492 feet) to take control before colliding with a concrete divider, but logs show that no action was taken. Prior to the crash, Autopilot was engaged and several visual with one audio warnings were issued to the driver, but the logs showed no hands were put on the steering wheel for six seconds before the Model X slammed into the divider.
"Tesla Autopilot does not prevent all accidents – such a standard would be impossible – but it makes them much less likely to occur," the blog post stated. "It unequivocally makes the world safer for the vehicle occupants, pedestrians, and cyclists."
Tesla reiterated the severity of the crash was in part due to the an impact attenuator — a barrier on the highway that can crumple and absorb the force of impact from a vehicle — had been shortened due to a previous crash at the same section of Highway 101. It was never replaced.
The National Transportation Safety Board is investigating the accident. Huang's family told the Mercury News that he took the vehicle to the Tesla dealership several times because the Autopilot would veer the car into the same divider at that location on the highway.
This crash is the second fatal accident involving a self-driving system this month. Earlier in March, a self-driving Uber vehicle struck a pedestrian. The rideshare company suspended testing of its autonomous vehicles after the accident and had its license revoked by the governor of Arizona, the state where the crash took place.