Tesla Model X Is Being Investigated After Fatal Crash Left Man Dead
Autopilot technology is being blamed.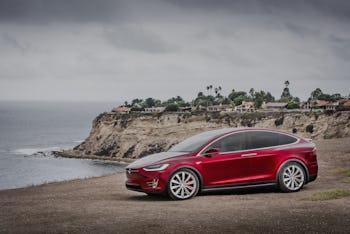 Tesla
Last week, a California driver died after his Tesla caught fire on Highway 101 in the Bay Area. The accident caught the attention of the U.S. National Transportation Safety Board (NTSB), which on Tuesday announced that it was sending two investigators to conduct a "Field Investigation" of the accident.
"We have been deeply saddened by this accident, and we have offered our full cooperation to the authorities as we work to establish the facts of the incident," a NTSB spokesperson said of the investigation.
As the post-accident images show, the Model X fire caused major damage and serverly burned the driver involved in the accident. The driver was taken to the hospital immediately following the fire and later died.
The California Highway Patrol confirmed that the Model X clashed with the highway's barrier in Mountain View and was hit by two other vehicles on the road before catching fire. Authorities are now investigating the case to help prevent future electric vehicle fires. The NTSB says it is "unclear if automated control system was active at the time of the crash."
This is not the first time Telsa's autopilot system has been investigated. A similar incident occurred in 2016 when one of the company's vehicles caught fire during a crash. While fires are inevitable during high-impact electric car crashes, there aren't clear protocols for first responders to be trained in, as electric vehicles are still very much a novelty among road vehicles. At the moment, Tesla recommends "large amounts of water" to put electric car battery fires. "If the high voltage battery catches fire, is exposed to high heat, or is bent, twisted, cracked, or breached in any way, use large amounts of water to cool the battery. DO NOT extinguish with a small amount of water. Always establish or request an additional water supply," the company says.
Both the current and the 2016 investigations into Tesla's fire crashes are still ongoing.