Photos of Wrecked Tesla Model X Posted After It "Unexpectedly Accelerated"
Owner claims the crash happened autonomously.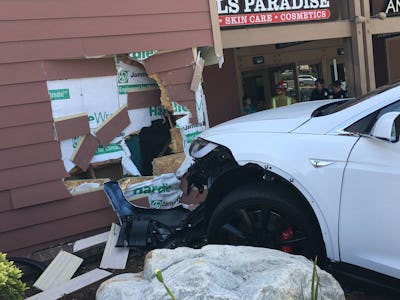 Puzant Ozbag
A set of photos posted on the official Tesla forum this weekend show a Model X that allegedly crashed into a building after the SUV "unexpectedly accelerated at high speed on its own."
The owner, a man in Irvine, California, who posted under the name Puzant Ozbag, claims his five-day old Model X autonomously drove over 39 feet of planters before crashing into a building. Ozbag says he was driving the car slowly while parking before the accident happened.
"The acceleration was uncontrollable, seemed maximum and the car only stopped because it hit the building and caused massive damage to the building," Ozbag writes.
Tesla hasn't addressed the accident, but the pictures certainly appear damning. Ozbag later wrote in the comments section that he has contacted Tesla and hasn't heard anything, and left his email for people to contact him if they have experienced something similar.
Ozbag also said that "Tesla should stop deliveries and investigate the cause of this serious accident."
Tesla's Summon feature was recently criticized by a man who claimed the car drove itself into a trailer. Tesla denied responsibility for the crash after checking the car logs. Updates to Summon were later made to keep similar accidents from happening.
For Ozbag's case, Tesla will be able to check the vehicle logs as well to judge whether the vehicle was at fault or not.
Other people commenting on Ozbag's post are skeptical that the car did this autonomously. The car will only park itself in reverse, and Autopilot doesn't work at low speeds, leading some commenters to speculate that Ozbag is at fault.
"Brain glitch or a human malfunction," a user that goes by Big T commented on Ozbag's post. "This type of accident happens many times every day in every make of vehicle. There is no reason to blame the X."
Inverse has reached out to Ozbag and Tesla for comment and will update the story when we hear back.