'Fortnite' Update v3.6: Expect 'Battle Royale' to Be Down for Patch
Hopefully Epic Games doesn't break the game, again.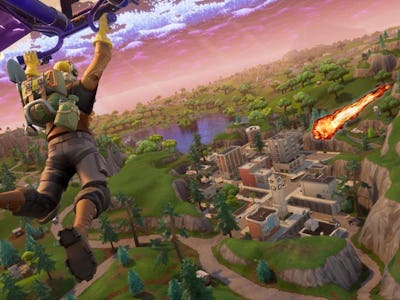 Epic Games
Epic Games has a new update ready to go for Fortnite, which will bring down the game's servers for a short period of time. While shutting down the game for a period of time tends to not go over well with players, some wondered what will change in the game after the update.
A tweet from the Fortnite Twitter account on Monday mentioned the game's servers will go down at 4 a.m. Eastern Tuesday in order to install update 3.6. Players played close attention the phrasing of the tweet as it could be a hint for one of the changes coming to the game.
"V3.6 will be sticking its landing on April 24, with downtime beginning 4am ET," the tweet said.
The "sticking" and "landing" are interesting terms to use for the update. "Sticking" could refer to a possible new weapon added to the game such as sticky grenades. As for "landing," a section of the island called Lucky Landing. It's very little to go on, but considering how common these updates are, what would be the point of using such particular language to express what will happen. Other possible changes in the 3.6 update could be the fix to the replay system, which Epic explained on Friday, or the removal of the 50v50 Limited Time Mode since it was only intended to be around for a short period of time.
Fortnite players will find out what changes Epic makes to the game on Tuesday morning. Hopefully, the developer will not have the same issues that it did with the last major update.
One question about Fortnite still yet to be answered is what will happen to Tilted Towers since a comet was expected to destroy it. Players also wondered why a certain kid wearing an orange shirt did not win the Boogiedown Contest.