'Fortnite' Down: Here's What May Have Caused It
It wasn't the Port-a-Fort.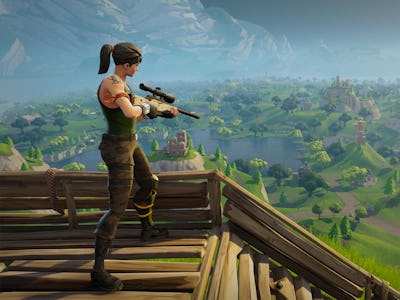 Epic Games
After a sudden and extended downtime, Fortnite servers are back up. As players log on to enjoy some battle royale goodness, developer Epic Games announced a new addition to the game included with the latest update could have been the culprit behind the server shutdown.
On the Fortnite Battle Royale subreddit, a representative of Epic Games posted on Thursday the 50v50 v2 Limited Time Mode that was part of Wednesday's 3.5 update patch has been removed. The mode will return at a later time, but for now, Fortnite players will have to stick with the Battle Royale or Save the World modes.
"You may have seen information or even a video about the 50v50 v2 Limited Time Mode going live today," the representative wrote. "Due to the account service issues we've been experiencing, and in order to preserve your play experience this weekend, we will be delaying it to next week."
The 50v50 Limited Mode is a return of the massive team mode released back in December. In this mode, two teams of 50 players face off to see which one survives. This latest version implemented several changes from the previous iteration such as each team having their own bus that drops off players on opposite sides of the island. The teams have 10 minutes at the start of the match to loot their area before the storm closes in and the big battle begins.
With the exception of the 50v50 Limited Mode, the rest of the changes and additions included in the Fortnite 3.5 update patch are live in-game. Epic posted on its site that a postmortem of what happened will come sometime in the future.
During the downtime, Pornhub tweeted to those gamers in need of something to do with their free time. The adult site's data team previously researched the spike in searches for Fortnite on its search engine back in March.