How to Watch the Original 'Lost in Space' TV Show and Film Reboot Right Now
No danger. It's actually pretty easy.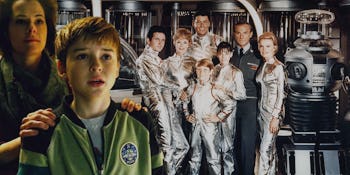 Netflix/CBS
If you're loving the new adventures of the Robinson family, Dr. Smith, Don and the Robot, you might be wondering where you can watch the original Lost In Space right now. Luckily, it's actually pretty easy to watch and get your robot fix in..
On April 13, Netflix debuted all ten episodes of the newly rebooted Lost In Space, based on the 1965-1968 TV series of the same name. The show was created by Irwin Allen, who, prior to Lost In Space, is probably most famous for his work on the 1960 version of the dinosaur epic The Lost World, based on the Arthur Conan Doyle novel of the same name. After Lost In Space, he was famous for The Poseidon Adventure, The Time Tunnel and Land of the Giants. But, Allen's original vision for Lost In Space was slightly less campy than the show that ended up on the air.
Where to Watch the Original Pilot Episode for Lost In Space
The first pilot was called "No Place To Hide," and if you scanned the credits for the new series, you'll notice this episode is specifically cited as the inspiration for the new show. The robot and Dr. Smith aren't in this version of these series! Really! The music is also almost totally from The Day the Earth Stood Still, which gives the show a somber feeling that is absent from the kitschy and kooky John Williams music that made the series famous. This episode is free to watch on Daily Motion right now and on Hulu, if you want to stream on a more reputable platform.
Where to Watch the Regular Series
If you've got Amazon prime, you can buy and stream individual episodes of the original series right here. There's also a 2015 Blu-ray box set, which totally includes that unaired pilot episode, too.
Lost In Space is ALSO on Hulu! Which means if you've got a Hulu membership (which you should for Handmaid's Tale alone) you're all set.
Where to Watch the 1998 Reboot
Whether you hated or loved the 1998 reboot Lost In Space starring Matt LeBlanc of Friends fame, Gary Oldman, Heather Graham and William Hurt, you can snag it pretty easily. The movie is streaming on Netflix, but you can also rent it on iTunes right here. This version has one thing that the new reboot doesn't: time travel.
The new Lost In Space is streaming on Netflix right now.
Correction: An earlier version of this story said the pilot and 1998 film were not officially streaming. This has been fixed.