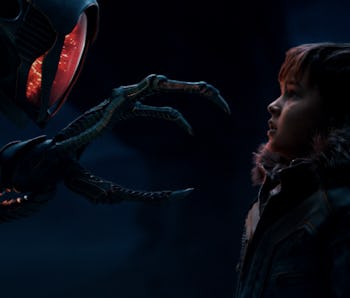 Entertainment
Listen to an Exclusive 'Lost in Space' Music Track: "Will and The Robot"
Netflix
The famously zany and jazzy theme music for the original Lost in Space was composed by a guy named "Johnny Williams," who science fiction fans know better as John Williams, the composer responsible for the music of Star Wars, Indiana Jones, Jurassic Park and, pretty much everything you love. Now, with the reboot Lost in Space series poised to hit Netflix on Friday, old-school fans might be surprised that the new music is a little more serious than the kooky themes most closely associated with the original show. But, the thing is, the new score — composed by Christopher Lennertz — actually gets back to the more serious roots of the unaired 1965 Lost in Space pilot episode, "No Place To Hide."
While it's true that the jaunty Williams theme music is most closely associated with the original Lost in Space, a lot of the first season of the show borrowed theme music from another sci-fi classic. Though all seasons of Lost in Space would incorporate musical themes written by Williams, Alexander Courage, and a few other composers, it was the ruminative Bernard Herrmann music from The Day the Earth Stood Still that was heard in all the early episodes, including both the unaired pilot and the first real episode. So, when you listen to the new composition from Lennertz, the more serious and complex tones actually get back to OG Lost in Space roots, which are, in turn, Day the Earth Stood Still roots. And so, we're pretty pumped to be debuting this new Lost in Space music exclusively on Inverse. Give the track "Will and the Robot" a listen right here.
Here's what composer Christopher Lennertz had to say about this selection.
"This is my favorite sequence in the pilot, where Will and the robot not only meet but form a true bond in the midst of a harrowing adventure. Zack [the showrunner] wanted it to play both the wonder of the situation and the danger of the robot. It was such a treat to write a long cue like the classic sci-fi that I grew up with, where an entire relationship shifts over the course of the piece and Will's emotion soars on top of the action and danger underneath. I really put myself in the mind of my 12-year-old self and tried to write it from the point of view.'
As with the classic show, the relationship between Will Robinson and "the Robot," is a big deal in the new Lost in Space. But, to say exactly how their relationship plays out would be a massive spoiler. Let's just say that some of those Day the Earth Stood Still tones might have found their way not only into the music, but the story, too.
- Lost in Space debuts all 10 episodes of its first season on Netflix on Friday, April 13.