'Star Trek: Discovery' Composer Has Already Written Music For New Characters
Jeff Russo talks about his bold, new Trek score.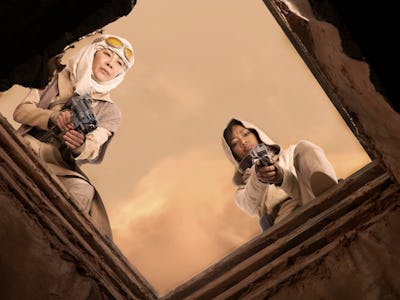 The sounds of science fiction are often more important than the images it leaves in our brains. We can all remember what the starship Enterprise looked like the first time we saw it, but what about those sounds? Arguably, the music of Star Trek is as integral to its success as any other component, and removing that music would be just as dangerous as ejecting the warp core.
And Star Trek: Discovery is no exception. The music of this latest Trek was crafted by Emmy-award winning composer Jeff Russo — famous for Fargo, Legion, and, for some of us, the alternative '90s rock band, Tonic.
A hardcore Trekkie and thoughtful musician, Russo's approach to the music of Discovery is a lot like Stamets being plugged into the Spore Drive of the USS Discovery. Without characters at the center of it all, this starship wouldn't fly.
Inverse chatted with Jeff Russo and he revealed how the best scene of the season was scored, which classic Trek music he likes the best, and what awaits the crew in Star Trek: Discovery Season 1, Chapter 2 next year.
How much did you listen to previous Star Trek scores before getting to work?
To me the original series music was really about Alexander Courage. Now, Courage didn't write all the original scores. He wrote the theme. But, there were so many composers in the original series. But where I did give the biggest nod, was in our theme, where I nod very apparently to Alexander Courage's fanfare is at the end. His was at the beginning, I put ours at the end. But we all thought that was really important. We wanted to acknowledge where we come from. We'd be nothing without that. But, then, the question was, how to jump off from that point.
In terms of listening to the other scores, yeah. I've been listening to Star Trek scores my whole life. I didn't have to do much of a search. I listened to Goldsmith scores. I mean, James Horner's score for Wrath of Khan was a score I listened to a thousand times. And the original Motion Picture score is a favorite of mine as well. But what I had to do was figure out how we make an identity for ourselves and forge our own path. Discovery, I treat in a more character, relationship. emotional way. Which I don't think Star Trek [music] has done before quite like this. I still have some of the swashbuckling. But most of the storytelling is about interpersonal relationships. Especially Michael Burnham and how she sees the world.
The scene where Stamets and Burnham dance in the time-loop episode really uses the new themes memorably. How did you decide to you score that the way you did?
When I first watched it, I wanted to do some sort of waltz. I wanted to get the tempo of them dancing. So, I got on my piano, and started doing a waltzy thing. But then, I was like, how is this relating to the show? And so, I thought it was a good spot to state the main theme. But, I do state that main theme in a lot of other places. It gets stated in important moments in the show. I thought this scene was a good spot to do it. Burnham is feeling very vulnerable. Stamets is trying to help her be the person she wants to be. She thinking about her feelings for Ash. You know, so I thought, why don't I try to do this with a piece of the main theme. I had written en entire piece before that, and I did the whole thing. But then, I did it again. Maybe someday, someone will hear that original version, which no one has heard! But that was one of my favorite moments from the score.
How can you describe the music we have to look forward to in Chapter 2? Other themes being referenced from other Star Trek?
Well, no. I've not done that [referenced other Star Trek themes.] But in Chapter 2, there's a lot of new thematic material, which you won't have heard yet, as the storyline progresses into a new part of the story. They [the writers] were very methodical in how they wanted to split this season up into these two chapters. And, I would say you'll hear a lot of new material for new characters, and new storylines. Lots of stuff that you haven't heard before. And, of course, that doesn't appear on the soundtrack yet, because I didn't want to give anything away.
From a composing standpoint, Is Star Trek: Discovery more like a film than a TV show?
Personally, I went about this the same way I would do a movie. Using thematic material to really pull you back into where you need to be in a story. I think sometimes, television composers tend to just write new music, it can get watered down. In a situation like this, it's a very thematic show, and a very cinematic show. And it really does benefit from the ideal from doing things from a cinematic standpoint. There's a Burnham theme. There's a Klingon theme. There are themes for various ideas in the show. And using those themes and going back them, really helps tell that story. And I think the misconception is, that television [scores] don't do that, but we do. And I used the same approach with Fargo, too. Tell the story, like you're telling a movie. In this case, we're doing a 15-hour long movie.
You can pre-order the soundtrack for Star Trek: Discovery starting today. The digital download of the soundtrack will be available on Friday, December 15. The soundtrack will be available on CD and vinyl album in early 2018.
Chapter 2 of Star Trek: Discovery's first season will return on Sunday, January 7, 2018, on CBS All Access.