'Walking Dead' Finale Has Fans Hyped for a Final Fight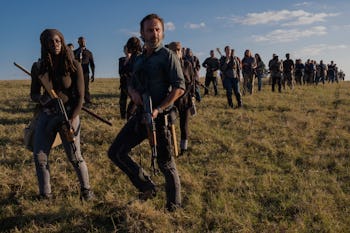 AMC
As the clock ticks down to the season finale of The Walking Dead, fans of the series began sharing their feelings about the show on social media. Ratings for the zombie show may be on the decline, but there are still plenty of dedicated fans who can't wait to see what happens Sunday night.
The Season 8 finale for The Walking Dead looks like it'll be a final battle between Rick and the Survivors against Negan and the Saviors. Fans even used the hashtags #TeamRick and #TeamNegan to show their support for their favorite character prior to the episode airing.
On Instagram, cosplayers came out in force to show their support for #TeamNegan with pictures of themselves in outfits inspired by baddie Jeffery Dean Morgan. They also made sure to have their own version of Lucille pictured with them.
Users on Twitter showed their excitement for the Season 8 finale through the GIFs and images. One person, in particular, is excited when Negan meets with Carol.
James Frazier, CEO of Fan Fest, showed his remorse for being in China, where it was already Sunday and there was no new episode available yet.
On what the network is calling #SurvivalSunday, AMC will air the premiere episode for Season 4 of Fear the Walking Dead followed by the season finale for The Walking Dead. The network will also air the two episodes in certain movie theaters across the United States.
There are a lot of questions going into the Season 8 finale, as well as predictions of who will win between the two warring groups. Khary Payton, who plays Ezekiel in the show, discussed in a panel at the Chicago Comic & Entertainment Expo how the show rips out the viewer's heart and stuffs it back in, and he tweeted on Saturday his excitement for the season finale.