SNL's Bizarre 'Shape of Water' Parody Gets a 'Star Wars' Cameo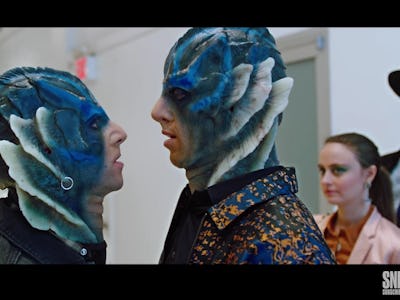 YouTube
Being a live show, some skits never air on Saturday Night Live due to time. The cut segment "Fish Dreams" was a dramatic look at what happened to the monster from the Shape of Water after all the success from the movie, and it includes a certain cameo from one of the stars in the newest Star Wars movie.
In the segment, cast meber Kyle Mooney plays Fish Man who, against his agent's suggestions, decides to leave acting and follow his true passion for exhibiting his photography in an art gallery. There, he meets up with his friend and fellow monster Roger (John Mulaney). As Fish Man struggles to sell photos, Roger takes acting roles in need of a water monster, including a role in Martin Scorsese movie Fishfellas. As his friend becomes a star and even hosts SNL, Fish Man finds himself on the street still trying to sell his photography. Roger and now new husband Adam Driver see Fish Man on the street, and after apologizing for how he acted, Roger offers Fish Man a role in Fishfellas: The Musical.
Mulaney hosted SNL for the first time. He wrote on the show for several years, and his best-known work was on "Weekend Update," where he and Bill Hader created the New York nightlife expert, Stefon. Mulaney made a cameo as Stefon's lawyer in March when Hader hosted SNL and reprised his character.
Doug Jones played the Creature from the Black Lagoon-inspired monster in the Shape of Water. Director Guillermo del Toro, a lifelong horror fan, did an unprecedented move by making Jones the silent romantic lead in a film about a woman who falls in love with a monster. At this year's Academy Awards, Shape of Water received 13 nominations and won four Oscars, including for Best Director and Best Picture.
SNL will go on a break for a few weeks and will return on May 5. The host and musical guest will be the new Lando Calrissian for Solo: A Star Wars Story, Donald Glover aka Childish Gambino.
The day Shape of Water won the Best Picture award also coincided with the exact day 64 years ago when the movie that inspired the film, Creature from the Black Lagoon, had its wide-release in movie theaters.