Bitcoin Price Could Hit $25,000 by End of 2018, Fundstrat Founder Says
Can the cryptocurrency reach a new all-time high?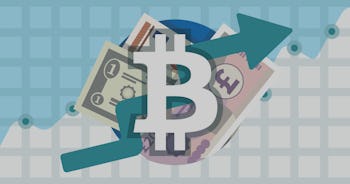 Beating Betting
After bitcoin's worst first-quarter price performance since its inception and a rocky start to Q2, things are looking better for the world's most popular cryptocurrency. The price of the token shot up past $8,000 on Thursday despite doubts that its recent downturn was a sign of the cryptocurrency bubble popping, and there are bullish predictions that claim bitcoin could soar past its all-time high at the end of the year.
Thomas Lee, co-founder and head of research at Fundstrat, tells CNBC he's "confident" that the digital currency could see highs of $25,000 within 2018. According to CoinMarketCap, as of 11:20 a.m. Friday, bitcoin is valued at $8,086 which means it would need to more than triple its value in the next eight months in order to meet this lofty prediction. Lee blamed recent lows on the approaching April 17 tax day, stating that investors were selling off their bitcoin holdings to offset their capital gains tax. He believes that it was past time for this market recovery and that gains are ahead.
"It's overdue. Bitcoin was incredibly oversold," Lee says. "When you look at metrics like price-to-book, which is 'money cost,' or our bitcoin misery index, it's pretty much what you saw at the end of the 2014 bear market, not the start."
Lee said he sees similarities in how the cryptomarket looks now to how it looked in 2014 after Japanese bitcoin exchange, Mt. Gox, filed for bankruptcy following a massive hack of its funds. The market fell into a rut after the site suspended trading but has since recovered, a cycle that Lee believes could happen again. He also stated that it's paramount that investors be patient when trading bitcoin, pointing out that the "annual gains are driven by an average of nine days each year."
While this forecast might spark enthusiasm in traders, it's important to remember that bitcoin saw it's all-time high in December 2017 when markets were vastly unregulated compared to today. Banks and national governments have begun drafting regulations for the sector, moves that might affect the market in the long run.
Predicting cryptocurrency prices is akin to trying to forecast the the stock market. Experts can take their best guess based on outside factors but at the end of the day it's always an estimation.