Experts Reveal 3 Reasons Why Bitcoin's Price is Edging to $8,000
The coin is jumping up 10 percent.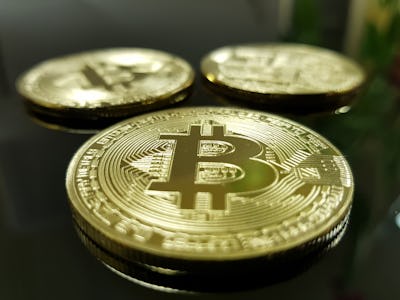 Flickr / andreastrojak
Bitcoin is showing signs of recovery. After a four-month decline from its mid-December high of $19,500 to a Monday low of $6,700, the world's largest cryptocurrency edged toward the $8,000 mark after a 10 percent rise over the space of 24 hours. Financial backing, a co-ordinated move, and support from the Islamic community could all be driving this new surge to recovery.
"I would expect that the massive spike was the triggering of market cap related buy orders across a number of platforms. The price action indicates that there was a uniform move," Tom Graham, Co-Founder of London-based Media Protocol, tells Inverse. "The market has jumped $50 billion USD in less than 12 hours."
The rise follows a series of signs that cryptocurrency markets could return to health, after the total market cap slid from its January 7 peak of $824 billion down to just under $300 billion. Trevor Gerstz, CEO of crypto investment service Coin IRA, told Inverse earlier this week that a volatile stock market could convince investors to store their wealth in crypto, while other experts point to a resurgent South Korea market and surprisingly strong Nigeria market as reasons for a turnaround.
"It's always tough to say what's driving crypto prices, but there are a few recent headlines that could be bringing traders back into the market," Rob Viglione, co-founder of Zencash, tells Inverse. "The news that finance magnates like George Soros may be entering the market, coinciding with tax return season coming to a close, seems to be prompting a wave of optimism."
"Additionally, a recent research paper that declared the ability to buy bitcoin halal and holy for the Islamic community could also be contributing to this morning's spike in prices," Viglione says. "Any time a large community of new investors enters the market, demand will increase, putting an upward pressure on prices as well."
The Accounting and Auditing Organisation for Islamic Financial Institutions, held in Bahrain this week, is set to decide wheter cryptocurrency is Sharia compliant. The question is whether crypto falls under "riwabi" — an item like gold and silver that must be traded immediately and with equal measure. The discussion follows denouncements of crypto from Islamic leaders earlier this year.
In the wider market, just three of the 100 largest cryptocurrencies reported losses on Wednesday. Mithril, the 74th-largest coin, reported the highest surge of the group at a staggering 163 percent. The market is finding its feet since its January highs.