5 of Isao Takahata's Best Anime Films 
From 'Grave of the Fireflies' to 'The Tale of Princess Kaguya,' celebrate one of animation's finest visionaries.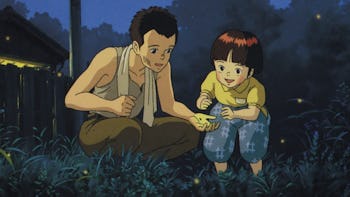 YouTube.com/Movieclips Trailers
Film director Isao Takahata, who co-founded the legendary Japanese animation studio, Studio Ghibli with Hayao Miyazaki, died at age 82. Though not as recognized as an auteur like Miyazaki, Takahata's creative contributions to films like Nausicaä of the Valley of the Wind (1984) and Kiki's Delivery Service (1989) are immeasurable. As a director, Takahata's works are also some of the finest in Studio Ghibli's library.
Born in Ise (then named Ujiyamada), Mie prefecture, Takahata survived an air raid from the U.S. during World War II, at the age of nine. The experience would profoundly influence his outlook, both creatively and philosophically, which can be best summed up by his 1988 film debut with Studio Ghibli, Grave of the Fireflies. Takahata studied French at the University of Tokyo, and eventually wound up at Toei Animation, where he'd meet future Studio Ghibli collaborator, Hayao Miyazaki. Takahata's first feature film would be The Great Adventure of Horus, Prince of the Sun for Toei in 1968.
Although the film was critically-acclaimed — one reviewer for Taiyō magazine said it "surpassed Disney" — and is deemed a classic today, it was a financial failure upon its theatrical release. The loss of Horus compelled Toei to demote Takahata, which motivated the director to look elsewhere. In 1971, Takahata left Toei with Miyazaki and Yōichi Kotabe (animator of Pokemon), and in 1985 formed Studio Ghibli with Miyazaki.
For those looking to honor the life of one of animation's most important artists, here are 5 films directed by Takahata to revisit or experience for the first time.
Takahata's first directorial effort with Studio Ghibli is a big one. Although based on Akiyuki Nosaka's 1967 short story of the same name, Grave of the Fireflies is undeniably a Takahata film. It imbued his own trauma from surviving U.S. bombings on his hometown into the film, in which two siblings try to survive the last few months of World War II.
In a 2015 interview with The Japan Times, Takahata said Grave of the Fireflies isn't an anti-war film, because it cannot stop a war. "[N]obody knows how horrifying a war is going to be at the beginning of hostilities," he said. "Grave of the Fireflies isn't an anti-war film simply because it cannot prevent another war from happening."
A perfect example of a classic produced under the noses of a powerful studio that had no idea what it actually had. Takahata's first directorial effort at Toei, about a boy who pulls a splinter out of a giant's shoulder only for the splinter to be a powerful sword, was regarded as a classic even by critics in 1968. But Toei, lacking confidence in Takahata during production, gave the movie a tiny 10-day release window, setting it up to fail. In hindsight, the animation world would benefit greatly, as Takahata would be motivated to form his own studio, which would become Studio Ghibli.
Based on an epic oral story from the indigenous Ainu people of Hokkaido, the film also lifted from Scandinavian folklore, which led to the film's title renamed The Little Norse Prince in the U.K.
As if predicting how much the internet would love cute AF raccoons decades before they actually would, Takahata's whimsical feature Pom Poko anthropomorphizes Japanese raccoon dogs — who, magically, can shapeshift into humans — as a sociable society whose way of life is threatened by suburban developments in the post-war economic boom. If for no other reason, watch Pom Poko to hear J.K. Simmons act as a bumbling (and adorable) raccoon in the film's English dub.
Takahata's final film was also one of his most expensive to make, at a reported budget of $49.3 million. A modern classic, the beautifully-animated The Tale of Princess Kaguya is set in medieval Japan, in which two farmers find a girl growing inside a bamboo shoot. Taking her in and naming her "Princess," they discover she can grow rapidly, and her status elevates her to nobility — much to her dismay.
With a distinct animation style reminiscent of Japanese oil paintings, Princess Kaguya looks mightily un-anime, and it's a sight to behold.
Eschewing cute talking animals, fairy tales, and grandeur indicative of most prestige animation from Studio Ghibli, Only Yesterday is a quiet adult drama about the pains of growing up. Set in contemporary Japan, 1982, a 27-year-old woman named Taeko recalls memories of 1966, when she was in the fifth grade trying to navigate school, adolescence, and crushes on boys.
For many years, Only Yesterday was recognized as one of the few Studio Ghibli movies to not receive an English dub with a North American release. For its 25th anniversary in 2016, Only Yesterday finally received an English dub, with Star Wars actress Daisy Ridley voicing Taeko.