Daisy Ridley's Roles Before 'The Force Awakens' Were Weird and Charming
The Star Wars actress is also billed to voice a character in the forthcoming 'Only Yesterday,' a Japanese anime.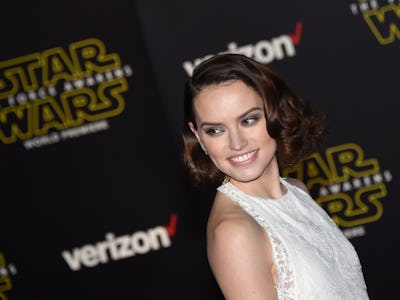 Getty Images
Upstaging classic Star Wars vets like Harrison Ford is no small task, and yet that's exactly what relative newcomer Daisy Ridley managed to do in The Force Awakens. As the saga's new lead, Rey, she started her journey as a lonely scavenger on a desert planet and, with pathos and pluck, advanced to become a Force-wielding potential Jedi by the final frames. Audiences can keep heading back to the theaters to add more to the movie's gargantuan box office haul to see her kick ass as the movie's breakout star, but they can also at least hear her in another new movie as well.
Ridley will take on another strong female character in the English-dubbed version of the Isao Takahata anime film Only Yesterday, which is getting its first U.S. release since debuting to acclaim in Japan in 1991. Ridley will voice the movie's lead character, a wayward 27-year-old traveling to her family's countryside home outside of Tokyo who passes the time by reflecting on her upbringing via flashbacks. Since its release in Japan the film has achieved a vaunted status for its adult tone among the animated movies created by the venerated Japanese animation company Studio Ghibli.
Only Yesterday opens at New York City's IFC Center on January 1 before expanding nationwide on February 26. But if you can't wait that long, where else can you see Ridley flexing her acting chops? It turns out she's mostly done bit parts in British TV shows and other projects before being sent to the galaxy far, far away. Let's get to know Daisy Ridley's work a bit better before you go see The Force Awakens again.
Lifesaver
In 2013, Ridley appeared in an interactive app called Lifesaver, which used various video game-type commands to teach users how to perform CPR and other life-saving procedures. The short series of videos in the app, which were nominated for a BAFTA award, were created by a multimedia production company called Unit9.
Casualty
Before saving lives in interactive apps, she was having her life saved in an appearance in the 28th season of the long-running BBC medical drama Casualty called "And the Walls Came Tumbling Down." It's like a hopelessly complicated UK version of endless American shows like Law and Order or ER with seemingly dozens of different hospital-related spinoffs.
Blue Season
After that she was in a five-minute sci-fi thriller short called Blue Season, which debuted at the Sci-Fi-London Film Festival's 48-Hour Film Challenge, where participants write, shoot, and edit a short film in two days. It's got shades of Korean revenge classic Oldboy as well as former Star Wars mastermind George Lucas' first film, the totalitarian sci-fi parable THX 1138.
Youngers
You won't find much of Ridley's acting chops here, but she does play a background character named Jessie from the lead character's music class in this first season episode of the British musical dramedy Youngers.
Wiley - Lights Out
Godfathers of grime music like Wiley need to make music videos too, so why not cast an actress who's two years away from appearing in what probably will be the highest grossing movie ever made?
Toast of London
Weirdo comedian Matt Berry hasn't broken through on this side of the Atlantic just yet, but fans of British comedy shows like The Mighty Boosh, The IT Crowd, or the cult comedy sketch show Snuff Box definitely know his name. He co-created and currently stars in the comedy Toast of London playing the lead character of a beleaguered middle-aged actor trying to revive his career. Stick around to the very end of the episode to see Ridley show her comedic side.
Silent Witness
Another long-running British TV staple, Silent Witness takes a dab of Casualtys ER and Law and Order vibes and mixes it with some CSI. The two-part Season 17 episode featuring Ridley isn't available online for free, but if you really want to be a pre-Star Wars* Ridley completist you can buy or rent the episodes — called "Fraternity, Pt. 1" and "Pt. 2" — on YouTube, iTunes, or Amazon.
Mr. Selfridge
Did you ever think you'd get to hear Rey from The Force Awakens do an over-the-top New York accent on an episode of a British period drama starring Jeremy Piven running a department store? The show may sound terrible, but the clip of Ridley is worth it just to hear what British filmmakers think Americans in the early 20th century sound like.
Scrawl
Most recently, Ridley starred in the low-budget (and we mean low budget) horror movie Scrawl about two friends who write a comic book that suddenly starts coming to life. The movie played a few niche horror festivals around the same time The Force Awakens opened and doesn't have a release date yet. It will continue playing the festival circuit next year, undoubtedly riding the success of Ridley's star-making turn in Star Wars.