Animator Hayao Miyazaki Is Building a Nature Sanctuary for Kids
The "Japanese Walt Disney" wants children to reconnect with the outdoors.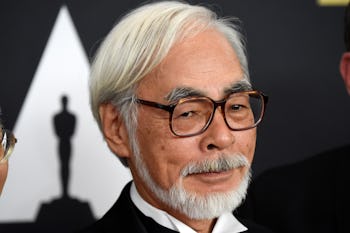 Getty Images
Hayao Miyazaki's retirement earlier this year from Studio Ghibli doesn't mean he wants to stop inspiring children. The Oscar-winning director behind Howl's Moving Castle, My Neighbor Totoro, and other seminal works of Japanese animation has begun work building a children's retreat in a virgin forest in Okinawa. The retreat is planned for completion in 2018.
Located about 55 miles west of Okinawa on Kumejima Island, the retreat is intended to give children the chance to experience nature "through their five senses."
The filmmaker appears to have support from the residents of Kumejima Island. A two-story concrete building will house roughly 30 people, on 2.5 acres of land the town has given him. Miyazaki is seeking local firms to build with local materials, making his facility an authentic, homemade project.
Miyazaki is ponying up ¥300 million (about $2 million) for the project. He first thought of it after supporting civil programs to help those affected by the earthquake-tsunami and nuclear meltdowns in 2011.
Nicknamed the "Japanese Walt Disney," Miyazaki's movies have won acclaim around the world. This new endeavor is resonant with his films, which are commonly about how children see and interact with the natural world.
But there are fundamental differences between Miyazaki and Disney. So for the hell of it, compare Miyazaki's project with the original prospectus of Disneyland from circa 1953, via BoingBoing.
One is a silent retreat to nature, the other a cacophonous retreat from reality. What's the better escape?