'Venom' Movie Reportedly Features a Big Name Actor as Carnage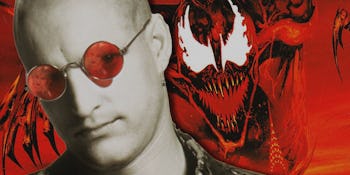 Warner Bros., Marvel Entertainment
If Venom is going to be the hero of his own movie, then someone — or something — worse has to fight him. Enter: Carnage. And a new rumor suggests that actor Woody Harrelson will play the villain in this year's Venom.
On Tuesday, Bleeding Cool reported "in a confirm-y way" that Harrelson will play Carnage in this year's Venom opposite Tom Hardy. Rumors of Harrelson's involvement in the film have floated since February, but this most recent report solidifies that Harrelson has been, at the very least, close to the production.
In the comics, Carnage is the moniker for serial killer Cletus Kasady, whose absorption of the Venom symbiote heightened his already-monstrous instincts. He is truly "Venom, but worse," and when Venom tried to become a good guy in Venom: Lethal Protector, which director Ruben Fleischer confirmed is one of two storylines that's inspired the film, Carnage was there to put up a fight.
Although an acclaimed actor with a number of dramatic roles in his resume, Harrelson is no stranger to the geek realm. From 2013 through 2015, Harrelson had a supporting role in The Hunger Games film adaptations as Haymitch Abernathy. He starred in War for the Planet of the Apes last year, and will play Tobias Beckett in Solo: A Star Wars Story in May.
Harrelson has also been a superhero himself, in the 2009 indie movie Defendor, while his role in the 1992 comedy White Men Can't Jump inspired writer Christopher Priest to create Valiant's superhero duo, Quantum and Woody.
Venom will be released on October 5.