No, the 'Infinity War' Directors Didn't Just Confirm Captain Marvel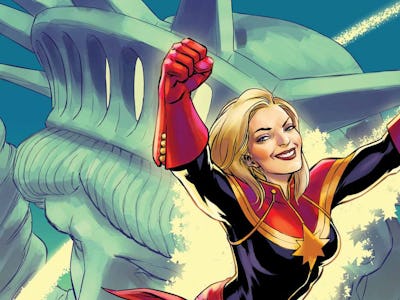 Marvel Entertainment
Brie Larson's Captain Marvel will not be in Avengers: Infinity War. And even if she is in the movie, then we're not supposed to know that.
There's conflicting information about whether Captain Marvel is in Avengers: Infinity War, and comments from directors Joe and Anthony Russo made it seem like Brie Larson's hero would be appearing after all. But, it turns out the quotes currently making the rounds are outdated, so unless something has changed — again — don't get your hopes up.
In an interview with Entertainment Tonight posted on Tuesday, Joe Russo said would show up in the upcoming Infinity War. But Slashfilm reported confirmation from Disney that she still will not be in the film, and that the ET interview happened before plans seemingly changed.
In a question regarding the abundance of female heroes in Infinity War, Joe Russo said: "We have some great female characters in this: Captain Marvel is in it, Black Widow, Scarlet Witch." He also brought up the women of Wakanda and the Guardians of the Galaxy who have "a really strong connection to the main villain of the story," which would be Thanos.
"I think you'll see in the film that that they're very pivotal to the storyline, and I think the arcs are fantastic. We're really, really proud of being able to introduce Captain Marvel in this one."
The ET interview was conducted at a set visit last year with select members of the press. That visit happened before the Russos confirmed otherwise at San Diego Comic-Con last July. "She's not in Avengers 3," they told ComicBook.
There's a lot of attention towards Larson's space-faring superhero, as 2019's Captain Marvel will be the first female-led superhero movie from the powerhouse studio. Larson will reappear in theaters three months later, when she returns in (still untitled) Avengers 4 in May 2019.
In all likelihood, Captain Marvel will not be Infinity War, or she will be in the post-credits scene. But why the smoke and mirrors for Carol Danvers? Like the whereabouts of the Soul Stone, that one remains a mystery.
Avengers: Infinity War will be released in theaters on April 27.