Is Captain Marvel in 'Infinity War?' Depends Who You Ask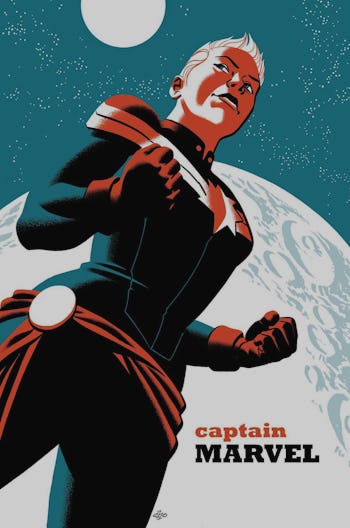 Marvel Entertainment
In just under a year, the Marvel Universe will unite to fight Thanos in Avengers: Infinity War. The movie will be part one of a two-part climax to the last ten years of Marvel movies, but there's still one hero who has yet to make her big screen debut. Captain Marvel, as played by Brie Larson (Room), will fly high in the Marvel Cinematic Universe, but it seems she may not fight in the all-important Infinity War. Or maybe she will. It depends on who — and when — you ask.
At Comic-Con in San Diego, ComicBook interviewed co-director Joe Russo and asked about the possibility of seeing Carol Danvers, aka Captain Marvel, in Infinity War. The Russo brother was quick to rule it out, saying no. "She's not in Avengers 3."
Until now, it was generally assumed and understood that Avengers: Infinity War would feature Larson as Carol Danvers, aka Captain Marvel, in her first appearance in the MCU. Nothing was confirmed, of course, but still. But while this new development will be heartbreaking for fans in the Carol Corps, it's also contrary to what the Russos have said before.
In the spring of last year, the Russos (perhaps accidentally) confirmed her role during a speaking engagement at the Smithsonian Institute in Washington, D.C. (When a fan asked them to clarify, the Russos replied in a cheeky manner, "Um, Captain Barvel.") Last December, a post from MovieCastingCall included Larson's name and her role as "Carol Danvers/Captain Marvel" in the credits. Sure, this wasn't the same as a producer or directing saying anything outright, but it seemed concrete. A more recent post asking for men to play military officers again includes Larson's name.
So is Captain Marvel in Infinity War? Right now, that's a very good question.
Avengers: Infinity War will hit theaters on May 4, 2018. Captain Marvel will be released on March 8, 2019.