'Solo' Theory: We Will See Another 'Star Wars' Character From 'Last Jedi'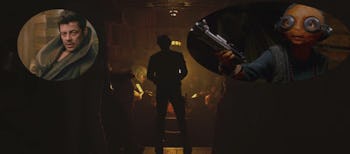 Lucasfilm
Because Solo: A Star Wars Story will establish several key events in Han Solo's backstory — like how he met Chewie and won the Millennium Falcon — fans may be forgetting about all the other easter eggs and cameos that could occur. But, some characters might not be retro callbacks, but instead, straight from the newest Star Wars trilogy.
Over the past few months, several tidbits and theories have emerged about what we'll see in Solo: A Star Wars Story. From Boba Fett to Jabba the Hutt, there are a lot of possible connections to the classic Star Wars trilogy. But, everyone is forgetting a bigger, more contemporary question: what about Maz Kanata? There's no reason to believe the character won't make a surprise appearance in the standalone Solo film. Afer all, Forces of Destiny has now established Leia met Maz right before Return of the Jedi, so perhaps we'll see the birth of this relationship in Solo.
After the first couple Solo trailers dropped in February, fans thought one alien at the gunnery controls of the Falcon was, in fact, a young Maz Kanata. Though this hasn't totally been debunked, it doesn't seem quite right. Still, is this alien a member of Maz's still-mysterious species? Even if this person isn't Maz, some fans think its a clue that we'll still end up seeing her in the movie anyway.
Considering Solo has been criticized for looking backward, the inclusion of Maz could help the film look forward, if only because she's so closely connected with the new trilogy, specifically her memorable role in The Force Awakens. Even though Maz is a relatively new character, her charm and limited screen time have created the perfect recipe for cult favorite Star Wars characters. (Star Wars fans love an elusive favorite. Just ask Boba Fett.)
Now that all the promotional events for The Last Jedi seem to be winding down, it feels very likely that new trailers and photos for Solo will start rolling out ahead of its release in May. Because of that fact, it's possible one of these trailers could tease Maz or Jabba.
Because Solo is focused on the criminal side of Star Wars, will we see a character like "DJ"; Benicio del Toro's shifty codebreaker from The Last Jedi? Possibly. But really, Han will need some kind of moral compass. Hopefully, Maz Kanata can help.