How Fitbit Ionic Adidas Edition Could Mimic a Big Apple Success
Apple's past partnership worked out very well.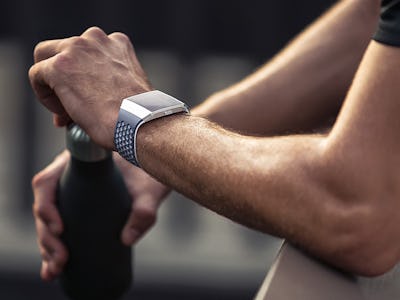 Fitbit
The Fitbit Ionic Adidas Edition hit stores Monday, the start of a new partnership that could bring a similar boost to the line as Apple's agreement with Nike. A household name in fitness wearables, Fitbit has struggled to repeat its successes in a screen-based smartwatch market dominated by the Apple Watch.
Released in September 2017, the original $299 Ionic didn't exactly transform wearables despite promises of a five-day battery life and advanced tracking. The successor to the Blaze was meant to offer Apple Watch-like features like NFC and GPS in a sleek, fitness-focused package, but it didn't quite work out that way. Reviews were lukewarm, with TrustedReviews noting the slow operating system and shortage of apps as its major downfall. In the company's February earnings, CEO James Park admitted Ionic sales didn't match up to expectations.
The Adidas Edition, which retails for $329, puts fitness first by partnering with the sportswear firm to deliver new training features. Six on-screen workouts designed by Adidas experts are aimed at improving form and performance: dynamic warm up, power pace, metabolic, run activation, strong strides and post-run stretch. There's also an Adidas-designed clock face and a two-tone breathable sports band.
It doesn't sound like the sort of changes that could reverse Fitbit's fortunes, but Apple's experience with Nike shows the importance of fitness partnerships. The "Nike+iPod" initiative revealed in May 2006 laid the groundwork for the company's future move into fitness tracking and health data.
At first, "Nike+iPod" started off modest, with a $29 Sports Kit that slipped into the Zoom Moire shoe and interacted with an iPod Nano dongle to track data on time, distance, calories burned and pace. The company later expanded this in 2008 to allow users to pair their iPod with cardio, while the release of the iPhone 3GS in 2009 enabled users to ditch the dongle and connect directly to the Sports Kit.
These features would foreshadow the Apple Watch's future. HealthKit announced in 2014 brought health data into a unified interface to enable a multitude of sensors to track workouts through one database. watchOS 4, a software update unveiled last summer, brought the ability for Apple Watch users to pair with supported gym equipment through the GymKit programming interface. Apple also released a Nike-branded Apple Watch last year that featured a Nike-designed clock face and sports band.
Apple's partnership proved fruitful as a way of bringing health data into its ecosystem. This move could do the same for Fitbit, with potential for Adidas in-store promotion, ties to new fitness wear, and the joint development of more workout techniques.
"As the leading global wearables brand synonymous with health and fitness, partnering with a sports industry great like Adidas to develop an exclusive version of our first smartwatch provides athletes of all kinds with the ability to be their best through a unique coaching experience," said Tim Rosa, chief marketing officer of Fitbit.