Apple Patent Hints at Watch 'Smart Bands' With Added Sensors
Apple has something smart up its sleeve.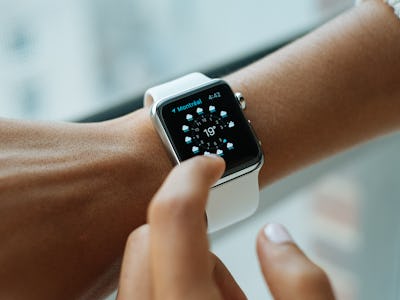 Unsplash / Crew
Apple is considering the use of smart straps for its Apple Watch, a patent released Tuesday reveals. The patent, for a case designed to charge the watch in its personal enclosure, makes reference to accessories for the base unit that would allow for new sensors and batteries.
In its description of the invention, the patent reads:
Embodiments of the case can include circuitry that can charge the stored electronic device and some embodiments can further include circuitry that can charge the one or more bands stored in the case if those bands have electronic components, such as circuitry, sensors and/or batteries, that also require power.
It's not necessarily a confirmation that Apple will ship such a device. Like many tech firms, Apple regularly patents ideas that may never see the light of day in a consumer product. It does, however, suggest ways the company is considering the evolution of the device over time.
Apple's watch charger, which works similar to the battery back used by the AirPods wireless headphones, was detailed in the below images:
The Apple Watch already contains hints to "smart band" functionality. Ever since the first model started shipping in 2015, the watch has included a six-pin diagnostic port hidden behind the bottom strap connector. This has been used in a limited number of third-party bands, like the Reserve Strap that promised to add 150 percent more battery life through a questionable-looking band. Unfortunately, the watchOS 2.0.1 update ended the use of the diagnostic port in this way.
Other third-party bands have added sensors through alternative methods. The KardiaBand adds a personal electrocardiogram sensor that connects directly to a third-party app, enabling precise measurements through a tap of the device embedded in the special strap.
Although Apple has filed smartwatch patents before, its advancements have largely come from newer versions of the base model. The Apple Watch Series 2 added better waterproofing features, while the Series 3 enabled users to un-tether from their smartphone with LTE connectivity, but its watch bands have remained largely fashion accessories that give users the option to switch out for a variety of styles. Adding a smart band feature could provide more detailed health data for athletes that want to move past the heart rate sensor.