2018 iPhone Design Predicted by YouTuber, And It's Awesome 
Hopefully Apple is watching.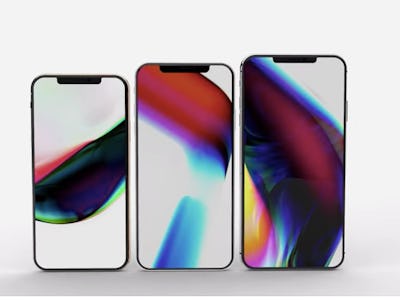 EverythingApplePro/YouTube
Predicting the design changes to Apple's annual new lineup of iPhones has developed into a cottage industry on the internet. While reporting on leaks and rumors has always been a staple of tech and gadget news, some enthusiastic members of the Apple cult have taken things a step further, pull all the scant rumors about future iPhone innovations together to create sophisticated potential designs.
One such acolyte is the proprietor of the YouTube channel EverythingApplePro. In a video posted on Wednesday, EverythingApplePro compiled a wide range of the rumors swirling around the 2018 iPhone and created 3D renderings showcasing what the iPhone might look like. If his predictions are anywhere close to accurate, we can expect the next iPhone to be both sleek and functional.
One rumor that EverythingApplePro uses was reported by ET News on March 7. ET News claims that Apple is planning to release two different iPhones with OLED displays and another with an LCD display. Each of these models is expected to include Face ID technology. EverythingApplePro shows what these phones may look like next to one another.
Another leak EverythingApplePro addresses was reported by Bloomberg, which suggested Apple may develop dual SIM card phones for some regions. Bloomberg says people have been clamoring for this feature in Europe and Asia, where international travel is common.
"EverythingApplePro" also sums up the technical changes we can expect with the next lineup of iPhones. In the video, he shows what a new L-shaped battery design meant to boost power capacity could look like.
Another change we might see is a new color in the iPhone lineup. People have been waiting for a gold iPhone for a while now, but EverythingApplePro thinks this might be the year it finally gets made. He also included a rendering of a purple iPhone, just for kicks.
Watch the full video here.