iPhone X Plus With iOS 12 Could Ditch a Major Apple Design Flaw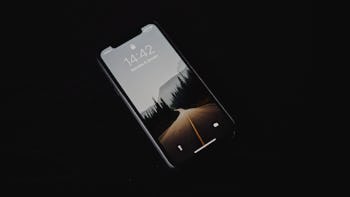 Unsplash / Radovan
Apple is working hard to reduce one of the biggest design characteristics of the iPhone X. In a new analyst report from investment bank Barclays, the three-person team claims that the "notch" that houses the face recognition scanner could shrink in Apple's next iteration. The news follows rumors that the company is planning to release an iPhone X plus-sized model and an iOS 12 software update later this year.
The note, MacRumors reported on Wednesday, predicts big changes to the TrueDepth scanner and Face ID security system that allows users to scan their face to unlock their phone:
We do expect the sensor to evolve slightly, potentially reducing in size (i.e., smaller notch) and improving in specificity […] helping to further drive very strong growth [for some Apple suppliers] in 2H18 as the second generation of sensor ships in this year's new iPhones.
Watch Inverse's report of the iPhone X launch below:
The iPhone X, which went on sale November 2017 at a starting price of $999, was a big moment for Apple. It was the company's first smartphone to ship without a home button, a design decision that CEO Tim Cook and chief designer Jony Ive suggested would chart the course of iPhones to come for the next 10 years. At the top of the display is a "notch" that houses the necessary sensors to scan users' faces, also providing support for the Animoji feature. While it's essentially a miniaturized version of the Microsoft Kinect peripheral for Xbox and Windows, an impressive feat alone, its curious design has drawn attention.
If rumors are true, the smaller "notch" could debut on three new smartphones set to launch this fall. A January report claimed that Apple plans to launch a model with display size between 5.7 inches and 5.8 inches, one with a 6.0-6.1-inch screen, and one with a 6.4-6.5-inch screen. While all three will use the 3D sensors, only the largest will offer the OLED screen that makes the iPhone X display stand out. These phones are also likely to ship with iOS 12, rumored to include group FaceChat support and updated Animojis.
This doesn't mean the iPhone X's design was a failure with the public, though. At its most recent quarterly earnings call, Cook revealed that the phone was the world's best-selling smartphone in the December quarter, while the device has retained its top spot as Apple's best-selling smartphone for every year since its launch. If the iPhone X Plus shipping with iOS 12 does fix the design flaw, it won't be because its predecessor was a dud.