Snapchat Removes GIFs After Racist Sticker Mess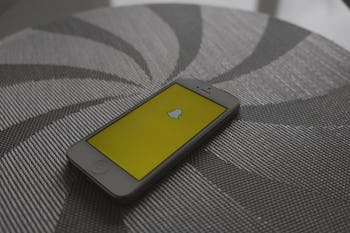 AdamPrzezdziek/Flickr
It's not just you. Snapchat users awoke on Friday to find that GIF Stickers, the popular feature that adds image overlays from the media repository Giphy, has gone missing. The move follows a shocking report that found users were able to easily access racist animations.
"We are very sorry," a spokesperson for Snap Inc. tells Inverse. "This GIF should have never appeared in Snapchat. Our team has worked with Giphy to have the GIF removed and it should no longer appear. We are in the process of removing GIPHY from our application until we can be assured that this will never happen again."
GIF Stickers, added to the app on February 20, allows users to press a sticker button while editing a photo or video, choosing from the Giphy library to add a fun little animation to messages.
See also: Snapchat is Testing Instagram-Style Mentions
One user, upon loading up the feature, was shocked to find a racist animation in the library. William Parkes, a 21-year-old from Birmingham, England, told The Sun on Thursday that he found a GIF with a racial slur followed by a "crime death counter."
In a Twitter post responding to user "AngelicaOlssoon," the app's support team stated:
We've temporarily disabled GIF Stickers but hope to have it back up and running soon!
The company tells Inverse the feature should only show images rated PG in Giphy's library. Beyond this rule, the Giphy community guidelines are clear that they "do not allow anything that slanders, demeans, or belittles another group or person based upon their race, religion, gender, or sexual orientation." The service works similar to a search engine in that it indexes popular GIFs and search terms from across the web.
The furor comes at a controversial time for Snapchat. A redesigned version of the app was met with outrage last month, as users criticized the decision to mix news and friends' stories into one feed. Petitions and retweet campaigns have been pressuring the company to reverse the decision.
It's not just the update that's causing issues for Snapchat. A viral tweet from Kylie Jenner with over 76,000 retweets said that she doesn't open the app anymore. This coincided with a $1.3 million drop in the value of the developer's stock.
Snapchat has attempted to reassure users that GIF Stickers isn't gone for good, but that hasn't stopped users from taking to Twitter to express their outrage that the feature is gone.
Despite the issues, Snapchat user figures are stronger than ever. The company behind the app, Snap Inc., beat goals for its fourth-quarter earnings report released last month, adding 8.9 million daily Snapchat users to reach 187 million daily active users. If people dislike the app, so far it hasn't shown up in the user figures.