Apple Patent Reveals a More Durable iPhone Cable Design
Change is potentially coming.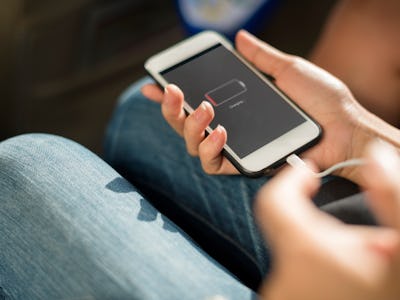 Unsplash / rawpixel.com
Apple wants to make the Lightning cable less prone to damage from the elements. A new patent published on Thursday shows the company is considering an update to its iPhone charging cable that would cause the connector to expand when plugged into the charging port, sealing off the outside world.
The patent filed with the United States Patent and Trademark Office (as seen by Patently Apple) involves electrical connectors containing gaskets and seals to stop liquid damage between the connector and device. The company has a number of ideas for how to do this, including a seal inside the device that interacts with the cable, as well as a deformable material that forms a wedge-like shape for plugging into the device. Filed in the first quarter of 2017, the change would represent the first big change to the reversible connector that was introduced alongside the iPhone 5 in 2012 as a more durable alternative to the 30-pin dock connector.
The cables have earned themselves a less-than-stellar reputation over the years thanks to their low durability. With 1,144 reviews, the meter-long Lightning to USB cable on the Apple store website has one star out of five. Users complain about frayed cords, repeated replacements, and low quality. The soft plastic that joins at the connector is regularly raised as a point of failure.
Apple's patent shows the company is considering how to improve the iPhone's use in tougher conditions. The iPhone 7, introduced in 2016, offers a waterproof rating of IP67, meaning they can survive around half an hour in water shallower than around three feet. The Apple Watch offers similar levels of resistance, while rumors suggest the AirPods wireless earphones may receive similar treatment. The Lightning connector on the AirPods and iPhones represent a potential failure point for charging the device.
Apple patents a number of ideas that may never see the light of day, like a dual screen MacBook and "smart bands" for the Apple Watch. Nonetheless, the move shows the company is considering how these issues might affect users.