Washington's New Net Neutrality Law Might Face a Legal Fight With the FCC
Can the FCC overturn state laws?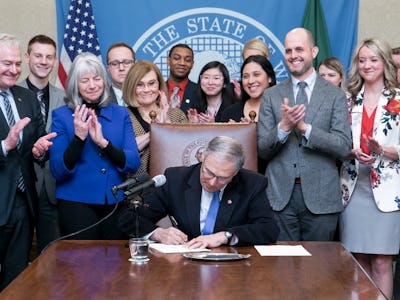 Legislative Support Services
Governor Jay Inslee approved a law enshrining net neutrality protections in the state of Washington on Monday. With the bill's passage, Washington became the first state to enact its own state-wide net neutrality plan following the FCC's decision to repeal similar regulations in December. The bill bluntly oversteps the wishes of the FCC — and could face a legal fight as a result.
"We know how important this is, we've seen the power of the open internet," Inslee said at the bill signing. "We're here now to say Washingtonians will be protected from throttling, from fast lanes, and they will be protected in preserving an open and accessible internet."
While Washington's move could prove a good check and balance to a regulation that's been massively unpopular on both sides of the political spectrum, the new legislation could also set the stage for a court battle between the state and the FCC. The FCC said in its December decision that state and local governments may not draft their own rules, because the telecom industry crosses state lines and only the federal government should have the power to enact regulations.
But Governor Inslee disagrees with that argument. "The states have a full right to protect their citizens," Inslee said. "We know that when D.C. fails to act, Washington state has to do so."
Based on historical precedent, Inslee may be right. Back in 2015, then FCC chairman Tom Wheeler attempted to block state laws in Tennessee and North Carolina regulating the growth of municipal ISPs. Both states challenged the FCC's legal maneuver, and a U.S. Court of Appeals ruled in favor of the state governments.
It remains to be seen if FCC chairman Ajit Pai will attempt to block Washington's new net neutrality regulation. For as long as the state bill goes unchallenged, Washingtonians can't be affected by service providers looking to capitalize on the lack of net neutrality regulations. While other states have erected executive orders that inhibit ISPs with state contracts from blocking or throttling online content, Washington's plan applies to all internet service provided to all residents within the state.
For the rest of the country, the FCC's ruling is supposed to go into effect around April 23. It could allow ISPs to control the type of internet content they provide customers, depending on how much they choose to pay. This means we could potentially see tiered access to information coming our way in the near future, with certain sites and platforms only available once users pay a premium fee.
With files from Gabriela Barkho.