Ajit Pai Killed Net Neutrality to Free "Human Capital" in "Our Hearts"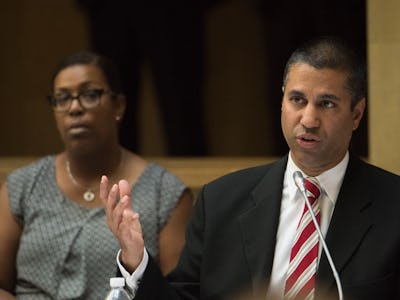 Flickr / USDAgov
Federal Communications Commission chair Ajit Pai underscored his commitment to deregulating the internet at a Friday panel appearance at this year's Conservative Political Action Conference.
Pai, who led the charge to kill net neutrality last December, argued that loosening internet regulations will allow American ingenuity to flourish in the future.
His main goal for 2018? "Closing the digital divide, the gap between those who have internet and other technologies and those who don't," Pai said. He claimed the repeal of net neutrality protections, set to go into effect in April, will help narrow the gap by encouraging ISPs to provide service to rural communities that don't have sufficient internet access.
Pai's logic is simple: Because of the digital divide, there are future entrepreneurs who are idling away because they don't have internet access. "If our country is going to recognize the human capital that resides in every single one of our hearts, we need to empower Americans to take advantage of these technologies," Pai said.
According to Pai, deregulating the internet will incentivize small startup ISPs to open businesses in underserved communities and unearth would-be entrepreneurs. Defenders of net neutrality, however, argue that there are plenty of reasons to be skeptical about smaller startup ISPs successfully entering the marketplace. For starters, the infrastructure costs are high, and the major telecommunications companies currently have a stranglehold on much of the market. In fact, more than half of all U.S. households only have one provider in their area, according to FCC data.
As a stalwart conservative, Pai remains confident that the free market will prevail. Throughout the panel, he repeatedly stated his commitment to curtailing government regulations. "To me, at least, the FCC is at its best when it unleashes the entrepreneurial spirit of markets as opposed to the all knowing vortex of government," Pai said.
Unfortunately, markets only work when there is a competition. Net neutrality advocates argue the telecommunications industry isn't competitive, and the deregulations won't significantly increase competition because the major telecommunications companies already have a near monopoly in providing internet service.
Those counterarguments didn't sway Pai's decision. As a result, CPAC treated Pai as something of a folk hero for standing up for conservative principles. The NRA gave him the "Charlton Heston Award for Service Under Fire" for his bravery in killing net neutrality. When asked by the panel moderator if it was difficult for him to rescind net neutrality in the face of severe public criticism, he deferred to a Gandalf quote.
"All that is left for you to choose is what do with the time that is given to you," Pai said.