Bill Gates Reveals Why He's Not a Fan of Cryptocurrency
He claims anonymity might not be harmful.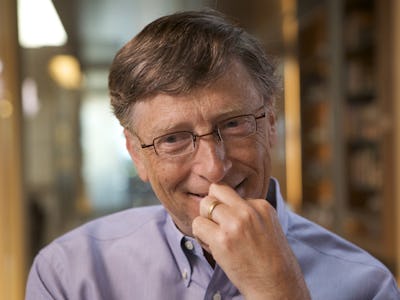 Flickr / OnInnovation
One of the most recognizable faces in tech has some harsh words about cryptocurrency.
Bill Gates took to Reddit to address the questions the Internet has deemed the most pressing in an "Ask Me Anything" session. During the cyber Q&A, Gates revealed that he wasn't a fan of beer, and even more surprisingly that he isn't a fan of cryptocurrencies.
Gates explained that the main allure to digital currencies is that they're completely anonymous. It's a feature he believes criminals can use to circumvent law enforcement.
"The main feature of crypto currencies is their anonymity. I don't think this is a good thing," he writes. "The [government's] ability to find money laundering and tax evasion and terrorist funding is a good thing."
These are the same reasons that countries like South Korea and France have used to justify enacting cryptocurrency regulations and even bans.
Gates took his statement a step further and said that cryptocurrencies can be linked to the deaths.
"Right now cryptocurrencies are used for buying fentanyl and other drugs so it is a rare technology that has caused deaths in a fairly direct way," he continued.
When Redditor dikkepiemel pointed out that fiat currency can also be used to purchase narcotics, Gates agreed with him but said that cryptocurrency makes it much easier.
"Yes - anonymous cash is used for these kinds of things but you have to be physically present to transfer it which makes things like kidnapping payments more difficult," explained the co-founder of Microsoft.
Gates' comments regarding digital currencies mostly centered on how the lack of regulations surrounding them can lead them to be used for illicit actions. But he also warned against irresponsible ICO investing habits.
"I think the speculative wave around ICOs and crypto currencies is super risky for those who go long," he writes.
That might not be the worst advice, seeing as half of 2017's ICOs have already flopped.
So it seems that one of the early pioneers of the Internet isn't too keen on the crypto craze sweeping the web.