Judge Jeanine Said FBI Should Look Into "Nicolas Cage" so Twitter Went Nuts
"Let me try and find out who Nicolas Cage is!"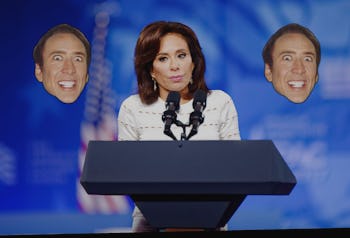 Michael Vadon
American political media personality Judge Jeanine Pirro called for the FBI to investigate "Nicolas Cage." Yes, you read that correctly. Nicolas Cage, the strange genre actor who once bought a dinosaur skull.
It might've been a genuine slip-up on Pirro's part, but that didn't stop Twitter from having a field day mocking her.
On Friday night, the host of Justice with Judge Jeanine and Fox News personality Jeanine Pirro made a guest appearance on Hannity to talk about Nikolas Cruz, the alleged Florida shooter charged with killing 17 people earlier this week. Pirro was justifiably frustrated that the FBI failed to investigate Cruz despite receiving warnings about some troubling remarks on YouTube.
But when trying to explain what the FBI should have done, Pirro slipped up and said, "You put on your instincts and your antennas and you say 'Let me try and find out who Nicolas Cage is!"
In all fairness, Pirro's next words were, "Sean: How many people with the last name Cruz have the first name Nikolas?" She clearly knows the alleged shooter's name, so this is a genuine Freudian slip.
Despite the seriousness of the topic and nature of the mistake, Twitter responded with a somewhat ruthless barrage of jokes.
It help that Nicolas Cage is one of the most inherently memeable people on the planet.
His roles over the year have been seriously bizarre at times.
But also, he is on record for stealing the Declaration of Independence in National Treasure:
But also kidnapping the POTUS.
But there was also that time he swapped faces with John Travolta in Face/Off, which makes this that much more mysterious:
Seriously, Cage has perhaps the single most memeable face on the planet:
He's everywhere:
Had this been almost any other actor, Twitter wouldn't have had nearly as much fun.
But seriously, has anyone checked the back of the Declaration of Independence?