What Nicolas Cage's Last 10 Years Tell Us About His Future
What's on the docket for Cage.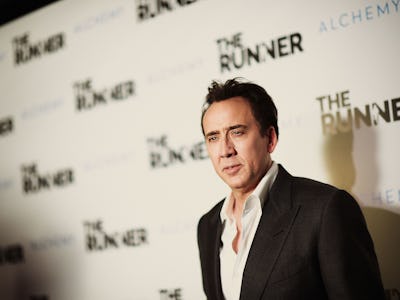 Ten years for some actors might mean 10 films, but Nicolas Cage isn't just some actor. Over the last decade, he's worked three times as hard as that pace, clocking up 30 movies since 2005. His resume during that period is a varied beast, including everything from comedy, thrillers, drama, sci-fi, horror, and action. Taking a look over his credits from September 2005's Lord of War up to this month's Pay The Ghost, a pattern of themes emerge. If history repeats itself for Cage, what might that look like?
Horror, science fiction: 6
The Wicker Man, Ghost Rider, Season of the Witch, Knowing, Ghost Rider: Spirit of Vengeance, Left Behind
Cage dedicated a fair amount of effort into an area of cinema that's notoriously difficult to get right. Horror fans denounced the remake efforts of The Wicker Man, an attempt to re-do a perfectly fine scarefest that gave us one of the century's most meme-worthy moments:
Similarly, Season of the Witch came and went without much fanfare, along with the two adaptations of comic book property Ghost Rider. Although it'd be simple to throw out the Knowing and the Left Behind with the grimy bathwater, both tried to mesh greater existential concerns in an action package. Points for effort.
Dramas: 6
The Weather Man, World Trade Center, Joe, Bad Lieutenant, Dying Of The Light, The Runner
Zany and batshit are two adjectives commonly affixed to Cage's performances, both ideal choices to describe his turns in Vampire's Kiss and Deadfall, but for his later dramatic films? Not nearly as much. The Weather Man, World Trade Center, and Dying of the Light he played straight, saving up all that crazy for Bad Lieutenant, one of his more surprising films of the decade. Worth watching for the scene where he threatens an old lady appearing all casual-like behind a door using his electric razor. Oh, and the one where he waxes about his lucky crack pipe.
Action: 9
National Treasure: Book of Secrets, Bangkok Dangerous, Kick-Ass, Drive Angry, Stolen, Rage, Justice, Outcast, Next
His skill for adaptation and reinvention often leads him back to what he does best — action is undoubtedly Cage's preferred wheelhouse: explosions, hammy dialogue, and simple character motivations, most of which often involve a person in peril whom Cage has to rescue. His more recent actioners have resorted to interchangeable one-word titles, characters, and synopses making it easy to mistake Stolen, Rage, and Justice as the same movie.
Thrillers: 3
Lord of War, The Frozen Ground, Trespass
Certain sequences from films in other categories are what you'd describe as thrilling, but there's only three that strictly adhere to the genre as a whole. Lord of War is far better than the DVD cover looks, a compelling ride into the world of international gun smuggling that's kicked off by an awesome credits sequence.
It's his best thriller out of the lot. Cage's jewelry expert in Trespass and harried cop in The Frozen Ground are by far the standouts of two middling straight-to-video types.
Comedies: 0
His only brushes with comedy in the preceding decade were Matchstick Men (2004) and Adaptation (2002), an area which has now completely dried up.
Kids: 5
The Ant Bully, G-Force, Astro Boy, The Sorcerer's Apprentice, The Croods
More kids movies than comedies? Yep. And it's a funny one, because, unlike other actors whose take a sudden swerve and begin voicing anthropomorphic characters so their children can watch one of their movies, Cage's kids… are in their '20s. He's in possession of a truly distinctive cadence, so that's an asset to an animated feature that relies on unique talent.
If we approach these results with the keen, schooled eye of a PhD student tackling the qualitative portion of their research, we can deduce the following:
Accepts work in cookie-cutter Taken ripoffs, that presumably allow him to do edgier stuff like Joe, Dying of the Light (earlier versions prior to studio interference are rumored to be good), and Bad Lieutenant.
More likely to appear in Madagascar 4 than the next Judd Apatow movie.
Continues to do science-fiction and horror even though none of his attempts over the last decade has been well received.
Drama and thrillers are his least prolific areas, yet it's within them that he receives the most acclaim for his work.
Should Cage take stock of his last 10 years to mould his future, we'd expect to see more of the same; a smattering of drama and thrillers on the outskirts of his bread-and-butter actioners, with a few voiceover gigs in between. That doesn't take into account his sci-fi/horror side which is arguably his least-successful area. As the results dictate, we're set up for at least half a dozen of them in the next 10 years. So please, can at least one of them get over 26% on Rotten Tomatoes?