Nicolas Cage Agrees to Surrender His Stolen Dinosaur Head
Mongolia wanted it back, and Uncle Sam lent a hand.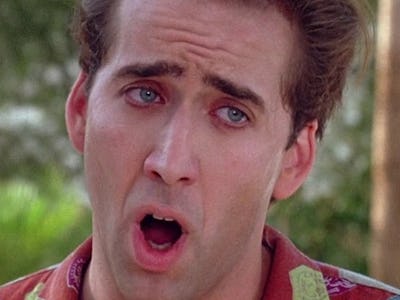 instagram.com/nicolascagestagram
Actor Nicolas Cage has agreed to turn over a stolen dinosaur skull he had purchased to U.S. authorities in order for its return.
United States Attorney for the Southern District of New York Preet Bharara had filed a civil forfeiture complaint on Wednesday seeking the surrender "of one Tyrannosaurus bataar ("Bataar") skull," following an investigation that determined the skull in question was taken illegally from Mongolia.
Cage wasn't directly named in the legal grievance—simply referred to as "an anonymous California-based buyer" who paid $276,000 for the T- bataar head via a telephone auction.
Nonetheless, Cage's publicist Alex Schack confirmed to media outlets that the star of Leaving Las Vegas and National Treasure had procured the skull back in March 2007 from the Beverly Hills gallery I.M. Chait.
Reuters reports that Schack confirmed in an email that the actor had received a certificate of authenticity from the gallery, but was contacted by the Department of Homeland Security in July 2014, and informed the skull might have been stolen.
The Chait gallery has not been accused of criminality regarding the case—but had obtained the fossil from paleontologist Eric Prokopi, who was arrested in 2012 "on one count of conspiracy to smuggle illegal goods, possess stolen property, and make false statements, one count of smuggling goods into the United States, and one count of interstate sale and receipt of stolen goods."
The Tyrannosaurus bataar (AKA Tarbosaurus) was a meat-eating dinosaur that lived during the Cretaceous Period (like its relative Tyrannosaurus rex). Its remains have only been found in Mongolia, which outlawed the export of dinosaur fossils in 1924.
Cage had outbid fellow Hollywood star Leonardo DiCaprio for the skull, which—according to Vanity Fair —was (at the time) the largest dinosaur skull to ever be auctioned.