Was Nikolas Cruz Involved with White Supremacists? Leader Backtracks on Story
'Republic of Florida' leader claimed the suspected shooter had trained with the group.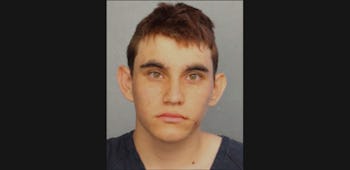 Broward County Jail
A new report from the Anti-Defamation League (ADL) suggests that 19 year-old Nikolas Cruz, the man charged with murdering 17 people during a school shooting in Parkland, Florida on Wednesday, had ties to the white supremacist group Republic of Florida (ROF).
Jordan Jereb, a member of ROF, confirmed to the ADL on Thursday that Cruz was affiliated with the group, and had participated in at least one ROF paramilitary training exercise, reports The New York Times. Later Thursday, however, Jereb appeared to be backtracking on his claim.
Update, 6 p.m. Eastern: Story has updates throughout.
Jack Smith, a reporter at Mic caught a tweet from Jereb shortly before his account appeared to have been suspended by Twitter. "There was a legit misunderstanding because we have MULTIPLE people named Nicholas in ROF," the tweet reads, before turning into an anti-Semitic rant. "I got a bunch of conflicting information and I have not slept for like 2 days."
However, three of Cruz's former classmates also told ABC News that he was a member of the group.
The ADL was first tipped off about Cruz's connection to ROF by anonymous internet users on the 4chan forum /pol/, a message board that is frequented by white supremacists for recruiting purposes.
At 11:24 p.m. on Wednesday, a self-described member of ROF took to /pol/ to claim that Cruz had been a member of the ROF. "Nikolas Cruz was a revolutionary member of the Republic of Florida, who preached twisted and dark things like terrorism and attacking innocent people." The post included a photo that allegedly portrays Cruz, but his face is covered by a bandana.
Based on this tip, the ADL contacted Jereb, who admitted that Cruz was affiliated with the group. Jereb said that ROF hadn't directed or wanted Cruz to attack his former school.
At time of writing, local law enforcement was investigating any ties Cruz may have had to white supremacist organizations, but had not confirmed any ties between Cruz and the ROF.
ROF does preach a violent ideology. The organization conducts paramilitary trainings for its members to prepare for a secession from the United States, and their desire for the formation of white ethno-states. On its website, ROF outlines how it will use force. "If your a military aged man and we believe you can cause us great bodily harm, We will do everything in our power to make you no longer be a threat, Which will probably involve us killing or hospitalizing you," ROF write.
The group's mandate, as described on their website, is to recruit young, suburban white people to help them fight for what they call "white identitarian politics." This is a common strategy for hate groups. In fact, the ADL recently found that the presence of white supremacist propaganda on college campuses tripled in 2017.
The rise in hate group recruitment efforts coincides with a disturbing trend. The Florida shooting comes only two months after William Edward Atchinson shot and killed two students in a New Mexico high school before committing suicide. Atchinson was a prolific contributor to the white supremacist website Daily Stormer and he also frequented /pol/. Dylann Roof, who shot and killed nine people in a South Carolina church in 2015, was heavily influenced by online hate groups as well.
At time of writing, videos of ROF training exercises that had been posted by the group to Youtube and Vimeo had been removed from the platforms.
Go Deeper:
Inside the School Shooting Industrial Complex
The AR-15 Used in Orlando Shooting Is "America's Most Popular Rifle"
Are Automatic Weapons Legal or Illegal in U.S.? It's Complicated
If We Can't Prevent School Shootings, at Least We're Improving Police Response Time
Ruvna Smartphone App Wants to Protect Schools in Shootings
How Sandy Hook Changed My Relationship With My Son, and With His Teachers