Data Shows White Supremacist Propaganda on College Campuses Tripled in 2017
It's the preferred battleground of the alt-right.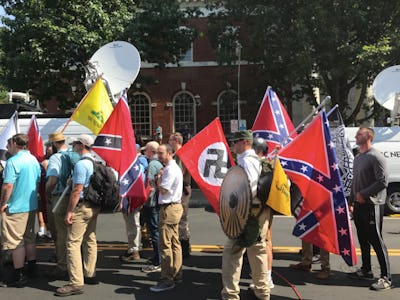 Anothony Crider/ Wikimedia
According to new figures released by the the Anti-Defamation League, 2017 was a big year for white supremacist activity on college campuses, with a tripling of propaganda incidents — stickers, posters, and banners — since the previous year.
The ADL has been tracking trends on white supremacy on campus since January 2016; recording 346 incidents of propaganda since then. The number of incidents are increasing in frequency, it says, with 290 of those 346 taking place in 2017, and 147 of them occurring in the fall semester of 2017.
ADL's Center on Extremism, which collected the data, tells Inverse in an email statement that the appearance of the propaganda on college campuses is not indicative of the number of white supremacists on campus. "All it takes is one person with a computer and a printer to target a campus with hate fliers… [but] white supremacist groups make it easy to find and distribute these fliers using tools such as social media."
ADL's data shows that propaganda appeared on 216 campuses in 44 states as well as the District of Columbia, but that Texas and California were hit particularly hard in 2017, with 61 and 43 incidents respectively.
A group called Identity Evropa, founded in March 2016, was the most active, behind 158 incidents, according to the ADL.
In an interview with HuffPost in October last year, Identity Evropa's leader, Eli Mosley, explained why groups like his are targeting colleges in particular:
"Young people matter, and college campuses have been where political battles have been fought since the sixties and before it. This is where political change happens. Fundamentally, it's where the most anti-white institution is. Academia has become a factory for anti-white individuals, and to teach whites to hate themselves."
Despite this, Mosley added, "When we go to these schools, we're not going to intimidate people of color or anything like that."
The ADL did not comment on why white supremacy is having a moment now, but Brian Levin, the director of the Center for the Study of Hate and Extremism at California State University, San Bernardino, told Inverse shortly after Trump's election, that it's because they perceive that they now have a new charismatic leader.
"I'm not saying President Trump is a hardcore, intentional bigot, but he appeals to those that are," Levin said. "Part of that is that they now have someone who is a celebrity brand who is embraced by the media, who will take messages and conspiracy theories that were previously segregated into the extreme world well into the mainstream."
The Center on Extremism collected their data from media reports, information from students and universities, and postings found on social media by white supremacist groups.