'Black Panther' Rotten Tomatoes Score Has Been Revealed  
So far, the king reigns supreme.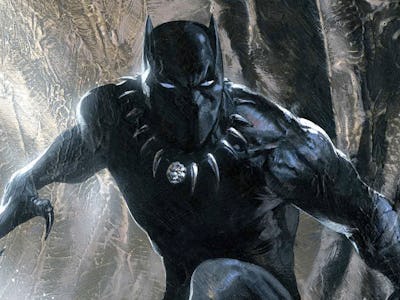 Marvel Entertainment
Director Ryan Coogler's Black Panther is officially certified fresh on Rotten Tomatoes, surprising no one. What might be a surprise is just how fresh we're talking: 100 percent, as of this writing.
Rotten Tomatoes promised Monday that the website would release the official Tomatometer score and some preliminary reviews for Black Panther Tuesday morning. Sure enough, they delivered. At noon on Tuesday, reviews from across the internet published, and within minutes the Tomatometer read 100 percent. There it remains for the foreseeable future.
As of this writing, 43 aggregated reviews and counting are marked Certified Fresh on the Rotten Tomatoes page for Black Panther. Glowing reviews from writers like Conner Schwerdtfeger calling it "one of the Marvel Cinematic Universe's most powerful, moving, and thematically resonant films to date."
Most reviews call Black Panther something utterly unique, not only within the overarching superhero landscape, but even within the MCU. Reviews include praise like "vibrant," "inspiring," and "visual joy to behold."
This overwhelmingly positive response to Black Panther comes a week after an alt-right hate group on Facebook promised to artificially deflate the Black Panther Rotten Tomatoes score, which led to Facebook banning the user and the group and Rotten Tomatoes issuing a firm statement against this kind of behavior.
Black Panther has already broken ticket sales records weeks before its actual public release, and early reactions from the big premiere in January were overwhelmingly positive.
These many new reviews and reactions only serve to reinforce that Black Panther is slated to be one of the most impactful Marvel outings in years, maybe even ever.
How will Avengers: Infinity War compare to Black Panther, which is apparently going to be everyone's new favorite Marvel film?
Black Panther will be released in theaters February 16, 2018.