'Black Panther' Review Round-Up: "Powerful Enough to Shift the Planet"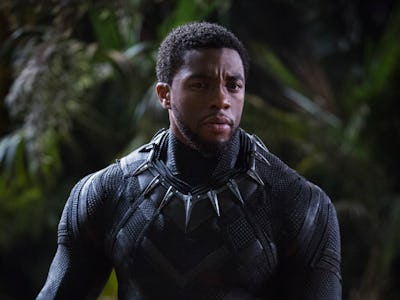 Marvel Entertainment
Praise the King. While Black Panther won't hit theaters until February 16, reviews for the 18th film in the Marvel Cinematic Universe have started to appear in the wild. Thus far, critics are hailing the Ryan Coogler-directed superhero movie as fun, funny, and socially relevant cinema. One review in particular highlights Michael B. Jordan's Erik Killmonger as maybe the best Marvel movie villain since Loki.
As of this writing, Rotten Tomatoes doesn't have a score for Black Panther yet. And, there's certainly not yet an aggregated audience score, a subject of minor controversy over the last few weeks. However, based on reviews released so far, there's little question Black Panther is on its way to a certified "Fresh" rating.
Set after the events of 2016's Captain America: Civil War, Chadwick Boseman returns to reprise his role as T'Challa, the new king of Wakanda and wielder of the warrior mantle, Black Panther. But upon his return home, T'Challa is confronted by Erik Killmonger (Michael B. Jordan), a political rival whose vision for Wakanda's future clashes with T'Challa's.
On IGN, critic Jim Vejvoda says the movie "delivers the goods as an adventure film, a political statement, and a cultural celebration." Though Vejvoda admits there are some pacing issues — "It doesn't really kick into high gear until T'Challa and Co. head to South Korea on a mission, and there are a few stretches later on that feel a bit dragged out," he writes — Black Panther is ultimately a film that transcends its shortcomings as a whole.
Vejvoda writes:
"It stands out boldly, in part by opening up a beautiful new corner of the Marvel Cinematic Universe, but also with its topical themes. Not everything works across the board, but when it sets this fantastic cast of relatable heroes on one side of real-world ideological debates and the MCU's most compelling and dimensional antagonist in years on the other, a huge amount of it works wonderfully."
On The Root, Danielle Young calls Black Panther "a thing of cinematic black excellence" and "powerful enough to shift the planet."
Writes Young: "It's like Coogler grabbed everything black people talk about in barber shops, church, kitchens, cookouts, and group texts and wrapped it in Wakanda magic."
Of particular note in reviews is Erik Killmonger. Vejvoda says Jordan's Marvel villain "is the strongest villain (figuratively speaking) the MCU has produced since Loki," while Young writes Killmonger is the best since Heath Ledger's Joker from The Dark Knight ten years ago.
"You immediately think that Marvel villain Ulysses Klaue is going to be who T'Challa is up against, but Killmonger shuts that down quick," Young writes. "Killmonger is undoubtedly scary and will end your life without a first, second or third thought, but his heart is actually in the right place. He wants to fight for the black people who are left in America's poverty and need just a taste of the riches Wakanda offers. He's the scariest villain because Killmonger actually believes in what he's doing and honestly, so will you."
Clay Cane of NewsOne writes that Ryan Coogler "delivered one of the best superhero films I have seen in decades," and calls Black Panther "innovative, intelligent and as empowering as a movie could be."
He continues:
"Yes, it's just a movie, but as I watched these Black and brown powerhouses deliver on screen, I could only imagine how overjoyed I would've felt if I were a ten-year-old watching Black Panther. When I was younger, all we had was Billy Dee Williams in Star Wars and a handful of brown extras in the Batman franchise. Black and brown children need a movie like Black Panther to boost their imagination and help them to dream the impossible."
Suffice to say, Black Panther may have some flaws, but none of its shortcomings overshadow how much the story of the Wakandan king will resonate around the world.
Marvel's Black Panther will be released in theaters on February 16.