'Black Panther' Broke Another New Ticket Sales Record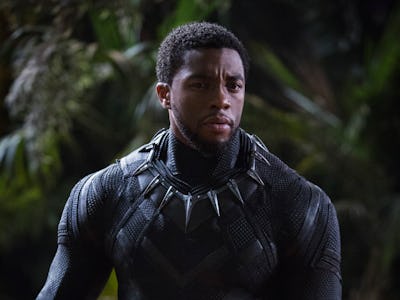 Marvel Entertainment
Wakanda forever! Marvel's Black Panther has broken yet another impressive record, this time surpassing any superhero movie before it.
On Wednesday, Fandango reported that Ryan Coogler's Black Panther has surpassed all superhero movies in pre-sale tickets through its online service. There are still two weeks before the film hits theaters, but that doesn't seem to be stopping Marvel faithful from seeing the King of Wakanda protect his crown.
In a tweet posted that afternoon, Fandango said Black Panther is "now outpacing ALL superhero movies in advance ticket sales." That includes even Batman v Superman: Dawn of Justice, wholly outside the Marvel franchise, and Captain America: Civil War, where Chadwick Boseman debuted his T'Challa. The opening weekend box office for Batman v Superman totaled $166 million.
By the same metrics, Black Panther had already surpassed all previous films by Marvel in early January. Previous tracking for the movie predicted an opening between $100 million to $120 million during the four-day President's Day weekend, Black Panther opens.
Will Black Panther be the biggest Marvel movie of all time? It just may be, but it also may be one of the most important. 2012's The Avengers was a game-changing film that altered the landscape of big budget films forever, but Black Panther may be even more significant. As a mainstream superhero movie bringing a regal image of Africa to the rest of the world, Black Panther is deemed to be a "cultural phenomenon" that could actually change minds.
"If you don't understand the power of representation, imagine growing up never seeing a superhero who looks like you," wrote Natasha Alford, deputy editor of The Grio on Twitter. "When American Girl dolls came out I always picked Addy who had to escape slavery. But now kids have #BlackPanther's Nakia, Shuri and Okoye. Dope on many levels."
Marvel's Black Panther will be released on February 16.