'Black Panther' Already Set an Impressive New MCU Record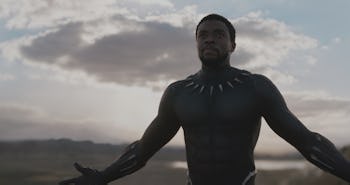 Marvel Studios
Long live the king. Marvel's next highly-anticipated movie Black Panther, which isn't due for theaters until February 16, has already broken an impressive record: It is now the number one presale movie in the history of the Marvel Cinematic Universe.
On Wednesday, movie retailer Fandango announced Black Panther, starring Chadwick Boseman as T'Challa, the warrior-king of the African nation Wakanda, broke the presale ticket record within 24 hours of the sale, which began on Monday night, January 8.
To become the new king of the mountain, Black Panther toppled the previous record holder, Captain America: Civil War, directed by Joe and Anthony Russo. Boseman made his debut as T'Challa/Black Panther in that jam-packed superhero movie, as his character was recruited to the side of Tony Stark/Iron Man (Robert Downey, Jr.) for the big superhero battle.
Fandango didn't disclose exact numbers, but Civil War opened to a monstrous $179 million when it was released in theaters in May 2016.
To say Marvel fans are excited for Black Panther is an understatement. Although Black Panther is not a founding Avenger, the character is renowned for being one of the first major black superheroes in comic books. As the Marvel movie franchise has been predominantly white, with few characters of color in supporting roles, many moviegoers are looking to Black Panther to break the mold as a major blockbuster in the era when superhero blockbusters reign supreme.
Created by Stan Lee and Jack Kirby in 1966, Black Panther debuted as an uneasy ally to the Fantastic Four in issue #56 of Fantastic Four. Since then, Black Panther starred in several volumes of his own comics, which has seen T'Challa struggle with ruling the most advanced kingdom on Earth while being a superhero. His current series is written by The Atlantic journalist and author Ta-Nehisi Coates.
Marvel's Black Panther will be released in theaters on February 16.