Bitcoin Price Drops Below $9,000 as Cryptocurrency Has Lost Half of Value
Not a great way to kick off February.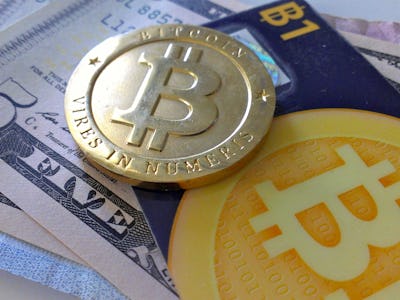 Flickr / zcopley
Bitcoin backers could be forgiven for hoping that a new month would mean a new start for the world's biggest cryptocurrency after January's crashes and price reversals. But the early returns aren't promising, as bitcoin prices temporarily fell below $9,000 Thursday, its lowest value since November of last year.
There wasn't necessarily any fresh calamity to drive the latest downturn, which brings the price to less than half of its December 19 record price of $19,000. As of this writing, bitcoin is just back above $9,000.
A CNN report suggests the drop happened in response to statements from Indian finance minister Arun Jaitley that cryptocurrencies are not legal tender in the world's second most populous country, and that the Indian government would take steps to crack down on its use in illegal activities.
None of this means India has banned cryptocurrency nor that bitcoin or any other coin is illegal in the country, as bitcoin enthusiasts were quick to point out. But the news appeared enough to spark another downtown cycle. The general pessimism among investors at large about bitcoin tends to compound these losses, creating downward spirals.
Investors committed to hold — or hodl — on to their cryptocurrencies remained defiantly unfazed at sites like the bitcoin subreddit, navigating the losses with cat memes and sarcastic advice. And those who see bitcoin as a long game have some justification in believing this is part of a much larger cycle with better times ahead.
Consider that bitcoin reached a then record price of $1,242 in November 2013 before crashing to as little as $224 in January. It wouldn't be until March 2017 that the price surpassed that previous record amount. So rebounds are possible. But bitcoin backers — especially those who invested when the price was $15,000 or higher — probably hope it won't again take more than three years for the cryptocurrency to get back to its old high water mark, though.
January was a kind of monthlong version of an annus horribilis — a mensis horribilis, if our four years of high school Latin counts for anything — for bitcoin and other cryptocurrencies. South Korea instituted new regulations amid a more general move by countries to consider rules to bring trading under closer control. U.S. financial regulators have subpoenaed the companies behind the Bitfinex exchange and the Tether cryptocurrency, which is closely linked to bitcoin.
Facebook also announced earlier this week that it will ban cryptocurrency ads from its site, though one at least one bitcoin expert says that might be a good thing. Suffice it to say, when having advertising banned from the world's largest social media platform might actually improve bitcoin's position — in that case, by keeping overeager, inexperienced investors out of the market — there are larger structural issues bitcoin and other cryptocurrencies likely have to address. Regulations may ultimately help with that, but it will likely be a bumpy ride before bitcoin gets to the other side.