Why Bitcoin, Ethereum, Ripple are Crashing This Morning
Cryptocurrency is not having a good morning.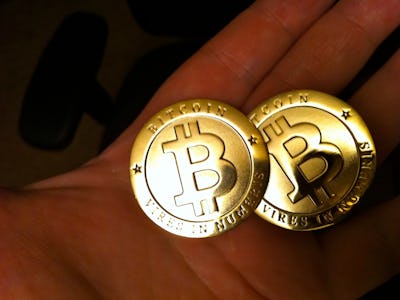 Flickr / zcopley
Friday is not shaping up to be a great day for cryptocurrency, with 88 of the 100 largest tokens reporting losses in the early hours of the day. Top coins Bitcoin, Ethereum, and Ripple all suffered losses after a Tokyo-based exchange unexpectedly halted withdrawals.
Coincheck, an exchange founded in 2012, halted all fiat currency and cryptocurrency withdrawals, stating that it was preparing a statement in due course. Hiroyuki Komiya, CEO of Tokyo-based Blockchain Technology Consulting, told Bloomberg that Coincheck is a "very well-known exchange" in the country and people are "very eagerly awaiting to hear more detail."
Markets reacted negatively to the news. Bitcoin dropped five percent over the 24-hour period to $10,676, Ethereum dropped three percent to $1,025, and Ripple dropped nearly 10 percent to $1.20. The worst performer was the relatively obscure Experience Points, the 96th largest cryptocurrency, which dropped nearly 20 percent.
Why Coincheck has suspended trades is unclear. Koji Higashi, Japanese cryptocurrency expert, has reported that one rumor claims the exchange has lost NEM tokens.
Yuji Nakamura, Bloomberg tech reporter, said Coincheck is refusing to clarify these rumors.
Lon Wong, the president of NEM.io Foundation behind the NEM cryptocurrency, said it was assisting in the process.
Other observers feared the worst.
"MT GOX 2.0," said Reddit user ObliviouslyThrowaway on the Bitcoin subreddit, referring to the collapse of the largest cryptocurrency exchange in 2014. Mt. Gox filed for bankruptcy after admitting it had lost $450 million worth of bitcoins. The incident caused a major crash in the market, and Bitcoin did not move past the all-time high it reached before the drop of just over $1,000 until 2017, when it soared to nearly $20,000.
NEM, the 10th largest cryptocurrency, distinguishes itself from bitcoin and others through a "smart asset system" that enables businesses to customize their use of the blockchain to suit their needs. The company also touts speed and security among the system's advantages. In the wake of the Coincheck news, the token dropped in value by over 15 percent.
It's worth noting that although some may see comparisons between Mt. Gox and a potential Coincheck collapse, the market is very different now than it was then. At the time of the Mt. Gox collapse, the cryptocurrency market was worth just under $14 billion, with bitcoin accounting for 95 percent of that. Today the market is worth $523 billion, and bitcoin is just 35 percent of the total value. The market is bigger, wider, and far more diversified than it was in the Mt. Gox days.