Maisie Williams Reveals When 'Game of Thrones' Season 8 Will Premiere
The Long Night is only just beginning.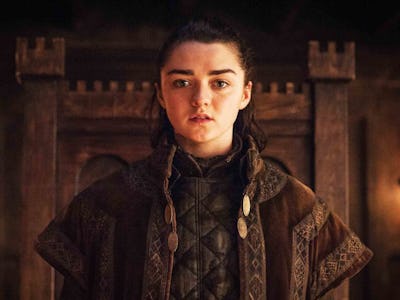 HBO
Update: Maisie Willaims has clarified that these comments were not made recently, and taken out of context.
Waiting for Game of Thrones' final season to come might feel like we're all stuck in the Long Night, but actress Maisie Williams has thankfully narrowed down when we can expect Season 8. The bad news is that it's still not for a really, really long time.
In an interview with Metro published last week, Williams explained the production timeline, saying, "We wrap in December and we air our first episode in April." That means fans will have waited 20 months in between Seasons 7 and 8 before getting new Thrones.
Noting the "four-month turnaround for these huge episodes," Williams added, "There's a lot that goes into the final edit. You would not want to rush this season at all."
HBO officially confirmed earlier this month that Season 8 would air in 2019, but this is the first we've caught wind of anything more specific. We probably shouldn't be all that surprised.
The Season 8 premiere airing in April 2019 actually makes a lot of sense. Historically, Game of Thrones usually premiered in April and finished towards the start of summer's peak. The only major exception was the Season 7 premiere which aired on July 16, 2017 before wrapping up at the end of August. In a way, this is Game of Thrones returning to its "regular" schedule.
If you're wondering why production is taking so long on the final season, you probably have HBO's sense of security to thank for that. Season 7 was notoriously plagued by set spoilers, leaks, and hacks, so much so that they're filming alternate endings and various characters deaths. Supposedly, not even the actors themselves will know which versions will make it into the final edits.
Considering the April 2019 release date, I guess now we can think of Game of Thrones as something of a real-life "dream of spring" — because there's virtually no chance author George R. R. Martin will finish writing it anytime soon.
Game of Thrones' final season will begin sometime in April 2019.
If Daenerys gets pregnant, how genetically screwed up will her kids be? Check out this video to find out.