It's Official: Bad News About the 'Game of Thrones' Season 8 Premiere Date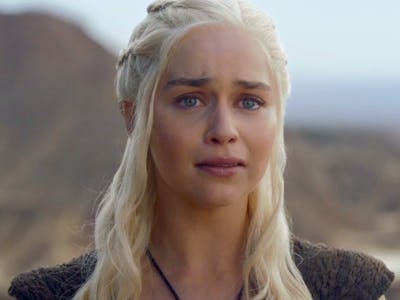 HBO
Even though winter is here, fans of Game of Thrones are going to have to wait for another winter to come, because HBO has finally, officially confirmed that the hit series won't air its eighth and final season in 2018. HBO's PR team announced on Thursday that the six-episode season would air in 2019, tthough they weren't any more specific than that at the time.
HBO also confirmed who the writers and directors for the final Game of Thrones season will be. Showrunners David Benioff and D.B. Weiss, will direct episodes, along with six-time Thrones director David Nutter and four-timer Miguel Sapochnik. Nutter and Sapochnik have directed some of the most famous (or perhaps infamous) episodes of Game of Thrones, with Nutter having directed the Red Wedding episode, "The Rains of Castamere," and Sapochnik tackling the epic battle episodes "Hardhome" and "Battle of the Bastards."
The Writers for Season 8 are David Benioff, D.B. Weiss, Bryan Cogman, and Dave Hill. There are no women or people of color slated to write or direct an episode for the final season.
The 2019 premiere date isn't exactly a surprise. We already knew that it might be a while before HBO shot and finished the extravagant, supersized six episodes. In December, Sophie Turner, the actress who plays Sansa Stark, casually mentioned that GoT would premiere in 2019. HBO's Thursday announcement just makes it official.
Game of Thrones's penultimate season, the show's seventh, wrapped up in August of 2017. Depending on when in 2019 the last season premieres, it could be more than two years before Game of Thrones comes back, which should give fans just a taste of what A Song of Ice and Fire fans have had to deal with for, oh, the past decade.
And those Game of Thrones spin-offs? They're not happening until after the main series is done, so it'll be a while on that front too.